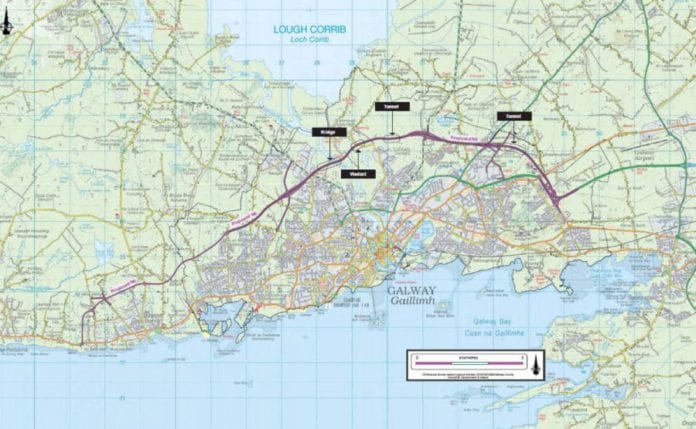 Plans for a proposed €600 million ring road bypass around Galway city will come before the cabinet today.
Minister for Transport Shane Ross will submit the plans to the cabinet today and make the case for the project to go ahead
If they are approved, the government will be committed to providing funding and acquiring lands for the project.
The 18km link between the east and west ends of the city involves extensive works including two tunnels, a bridge, and a viaduct.
The tunnels included in the plans will be built at Ballybrit and north of Coolough.
While the viaduct will go over the Coolough road near Menlo and the bridge will be built over the Corrib just north of NUI Galway's sports grounds in Dangan.
If the government decides to back the proposal as it is now, it's expected that a planning application will shortly be made to An Bord Pleanála.
Under the current plans, more than 40 houses, mostly newer developments, will be demolished to make way for the bypass.
Up to 1,000 letters will be sent out to landowners if a planning application is made warning them they may be subject to a compulsory purchase order.
An oral hearing on the project would be scheduled for spring.
Once a planning application is made there's an eight week period where submissions can be made to the planning authority regarding the environmental impact.
Those who will see their property subject to compulsory purchase under the plan will also have an eight week period to lodge an objection.
The project has the support of four of five Galway West TDs, however Independent TD Catherine Connolly said that planners have become set on this project.
Deputy Connolly said that with climate change to consider, infrastructure projects should focus on moving people away from cars.
Galway City's Integrated Transport Strategy identifies public transport as a key element of the city's future.
It has a goal of shifting more than half of the city's transport to walking, cycling, and buses, and away from the car.