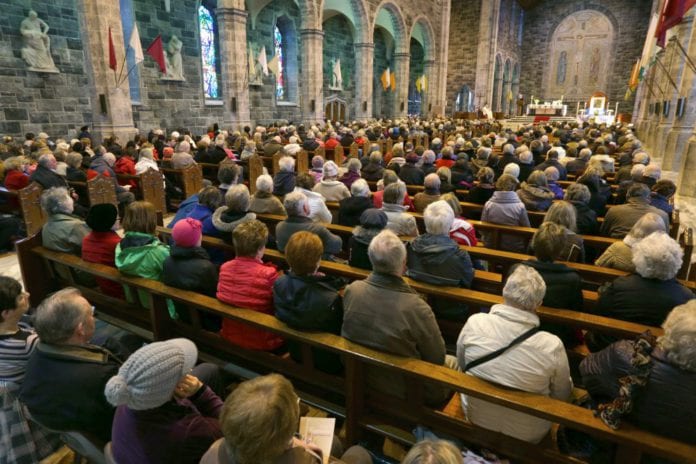 Athlone native Michael Duignan has been appointed the new Bishop of Galway.
He will replace Bishop Brendan Kelly, who will now retire after serving as Bishop of Galway since December 2017.
Bishop Duignan was appointed Bishop of Clonfert in 2019, taking the helm after the retirement of Bishop John Kirby, who served as Bishop for 31 years.
The Athlone native will now serve as the Bishop of Galway, Kilmacduagh, Kilfenora and Clonfert.
Born in July 1970, Bishop Duignan is the eldest of a family of six, and his primary education was at Cloonakilla National School and St. Aloysius College, Athlone.
In Rome he attended the Pontifical Gregorian University where he graduated with a Baccalaureate in Philosophy in 1990 and a Baccalaureate in Theology in 1993.
As a postgraduate student he completed a Licentiate in Dogmatic Theology in 1995.
In 1993, he was ordained a deacon in the Basilica of Santa Prassede, Rome by Dominic Conway, Bishop of Elphin.
Then in July 1994, Bishop Conway ordained him a priest in the Church of S.S. Peter and Paul, Athlone.
After completing his Licentiate, he ministered as curate in the Cathedral Parish of St Mary's, Sligo and subsequently as chaplain to the Institute of Technology, Sligo before returning to Rome to complete doctoral studies in contemporary trinitarian theology at the Pontifical Gregorian University with Father Gerald O Collins SJ.
Returning from Rome, he ministered as Curate in the Parish of Ahamlish and Innismurray, Cliffoney, Co Sligo and began teaching Theology, Philosophy and Religious Education at St Angela's College (A College of NUI, Galway), Cloghereevagh, Co. Sligo.
In 2005 he was appointed full-time Lecturer in Religious Education and Chaplain at St Angela's College.