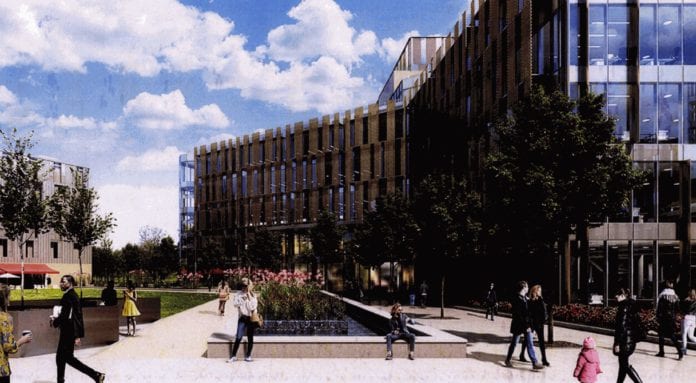 Planning permission is being sought to enlarge plans for a new hotel in Mervue to add more bedrooms and another floor to the building.
Wolfe Tone House Crown Square Developments is seeking permission to amend the previously approved plans for a hotel which makes up one part of the larger Crown Square project.
The commercial side of this project was approved by the city council in March 2019, which also includes five office blocks with the capacity for over 3,100 staff.
While the overall footprint of the hotel will not be changed under this fresh application, an additional 1,583sqm of floor space would be added through the addition of a 6th floor.
This will include a lounge, kitchen area, ancillary facilities and two outdoor seating areas on the south-eastern and western elevations.
Internal alterations have also been made to the bedroom sizes on all other floors to accommodate another bedroom on each floor.
Under the revised plans the hotel will have a total of 180 bedrooms, an increase of five from the original plans.
The overall height of the building will be approximately 25.5m with the addition of the sixth floor.
Amendments would also be made to the basement level to include an additional communication room, staff room, and storage rooms.
This would result in there being 24 fewer car parking spaces at this level.
The Crown Square site on the junction of Monivea Road and Joyce's Road was left vacant for over a decade before until developers JJ Rhatigan signed a deal to take over the site again in June of 2018.
The second Phase of the €200 million project, incorporating 288 build-to-let apartments, was approved by An Bord Pleanála last November.
Galway City Council is due to decide whether to approve the modifications to the hotel plans July 4.