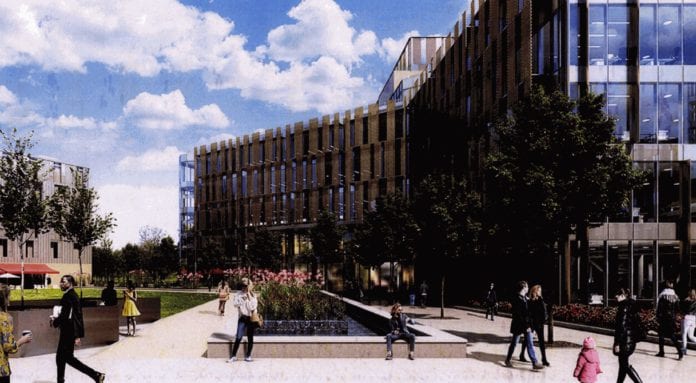 An Bord Pleanála has given the go ahead for the construction of 238 build-to-let apartments in the city as part of the €200m Crown Square Development.
Crown Square Developments made a Strategic Housing Application for three blocks of apartments at the Mervue site, along with a creche, parking, and several commercial units.
The apartments will be broken down into 104 units in the eight storey Block G, 136 units in the seven storey Block H, and the final 48 apartments will be in the five storey Block J.
This Strategic Housing Application made directly to An Bord Pleanála is Phase 2 of the Crown Square project.
Phase 1 of the development, consisting of five office blocks and a five storey, 175 bedroom hotel was granted by the city council in May of 2019.
Car parking for the site will be served through basement level parking under the building granted permission in Phase 1.
For cyclists, An Bord Pleanála said that Phase 2 must be include 529 resident bike spaces and 144 visitor bike spaces.
Other commercial and social elements which make up part of this application include a restaurant/café, a convenience store, pharmacy, and five undesignated commercial units.
A Primary Care Centre, Fitness & Leisure Centre, and creche will also be constructed as part of the project.
Planning permission for the housing development was granted by An Bord Pleanála with 27 conditions attached.
Before any work can begin the developer must enter into an agreement with the city council to satisfy their Part V Planning requirements.
This means that a certain number of units within a housing development must be set aside for social or affordable housing.
A Stage 2 Road Safety Audit and Cycling Audit must also be completed and submitted before work can begin.
All car parking spaces must also be fitted electric vehicle charging points the higher planning authority said.