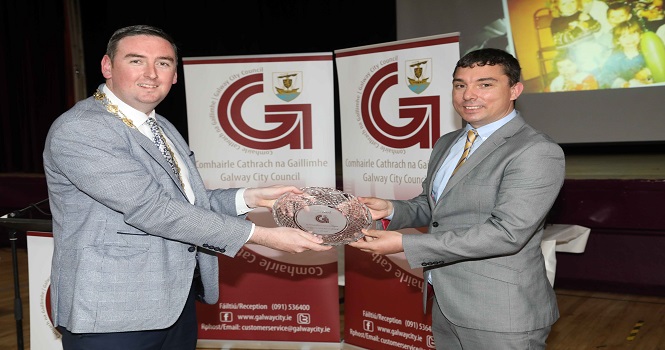 The achievements of NUI Galway student Owen Ward were celebrated at a special Mayoral reception at Leisureland in Salthill on Friday afternoon.
Owen, who is a Galway City native and member of the Irish Traveller community, left school early without a Junior Cert, but after completing the NUI Galway Access Programme he graduated from the University with a B.A. (Hons) and a Masters in Post Primary education.
Owen is a Programme Coordinator at the Access Centre, NUI Galway, and a Committee member of Údarás na hOllscoile – the first Irish Traveller to be elected to a university governing authority in Ireland.
Mayor of Galway City Cllr. Mike Cubard presented the graduate with a Galway Crystal Plate at the reception which was socially distanced and attended by a small number of people.
Cllr. Cubbard said: "Owen's commitment to widening participation in higher education for students from diverse and socio-economic disadvantaged backgrounds has been remarkable."
He also played a key role in the establishment of the University of Sanctuary scholarships at NUI Galway and was a co-founder of the Mincéirs Whiden Society with fellow Traveller students at the University.