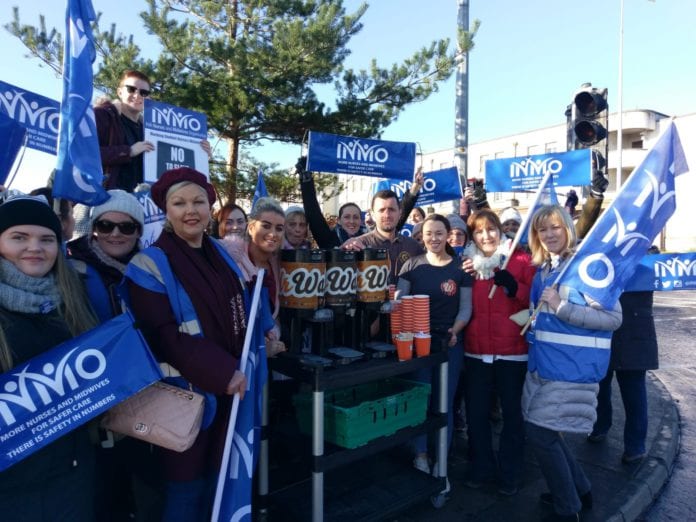 As the nurses stage the third day of strike action for better pay and working conditions, one patient, who had her surgery cancelled on Tuesday, has written a letter saying the nurses are our only chance of having a decent health service.
Hello,
I have listened to radio and TV reports for past few weeks. A lot of them condemning nurses and midwives for so many cancelled surgeries on the days of the strike.
My own surgery that was scheduled for Tuesday 5th Feb was cancelled. I have been waiting on my surgery for almost 4 years at this stage .
But you see my surgery wasn't just cancelled today. My surgery has been cancelled a total of 5 times in the past 2 years alone.
Today was the first day it was cancelled supposedly because of the strike action by nurses.
And so what did I do? Did I vent my anger at nurses?
I rang my daughter.
She collected me and my ailing zimmer frame and we both stood in solidarity with the nurses and midwives of this country.
It is they who are fighting our corner.
The government will fill the ears of any one who listens to them, with lies and propaganda. It's sickening to say the least.
I tried my best to get onto radio 1 to tell the truth but they just wanted people who were against nurses to talk. I was ignored.
I know I won't be fooled by radio or TV talk shows that are spinning government lies. I know my surgery has been cancelled 5 times and I can tell you this, it certainly isn't our nurses fault.
The blame lies solely at the hands of our incompetent government who don't give a damn about me or people in my position or nurses. They could not care less about us.
They are constantly cancelling surgeries for thousands of people and yet try to blame nurses for two days of cancellations.
I 100% stand with the nurses.
They are our only chance of all of us ever having a decent health service. I know they are doing this for all of us.
Nurses and Midwives, I love you all and so do the majority of this nation.
Thank You for standing up to this criminal government.
You are the bravest and most couragous of angels! I wish you all the success in the world.
My daughter e-mailed Simon Harris and Leo Varadkar saying the exact same thing.
This government should hang their heads in shame.
Keep up the fight nurses and midwives of Ireland.
Yours sincerely,
Anna