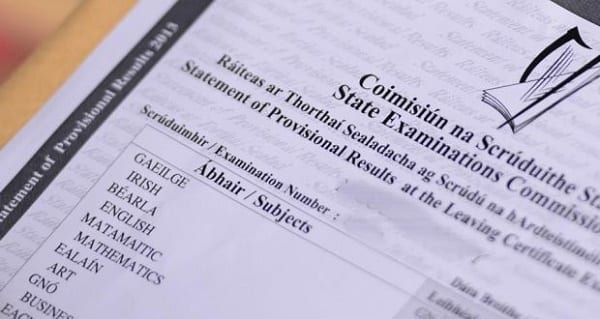 Three thousand young people in Galway are headed into secondary school for the last time today to collect their Leaving Cert results.
Around Ireland 57,000 students are waiting, either anxiously or too relaxed for their parents' liking, to discover how they did in this year's Leaving Cert exams.
Students can collect their results at their school this morning, and they are also be available through the State Examinations Committee website from midday.
In Galway 1,515 boys and 1,465 girls sat the exams this year.
The SEC have said that the Leaving Cert results from this year's exams do not differ greatly from last year.
A new grading system has been in place for the Leaving Cert since 2017, replacing the 14 A,B,C etc grades with grades H1 – H8.
Outside of the most commonly studied languages of French and German, a growing number of students sat exams in non-curriculum EU languages this year.
Polish was the most popular non-curriculum language with 687 people taking an exam in it this year, 267 people sat Romanian, and 156 people took Lithuanian.
Exams were offered for 15 other EU languages, with Slovenian and Maltese appearing for the first time this year.
Of the people sitting the standard Leaving Cert, 13,368 also did the Leaving Cert Vocational Programme.
This is an optional two year academic and experienced based programme offered in two-thirds of secondary schools.
As well as their standard subjects, students take Link Modules which consist of work experience, enterprise activity, together with vocational exploration and gaining experience in Information Technology.
This year 12,425 students passed the Vocational Programme, with 8,490 earning a Merit or Distinction.
To get a Distinction a student must earn 85% or over, and a Merit is for 70% – 85%.
The number of students taking part in the Vocational Programme has declined consistently for several years now, down nearly 2,000 students from 15,274 in 2014.
2,709 students chose not to follow the typical academic path and instead are graduating from the Leaving Cert Applied this year.
In the LCA, rather than getting results from different subjects, students get a single award based on credits accumulated over the past two years as well as their final exams.
Of those taking the LCA, 2,217 passed this year with 1,860 earning a Merit or Distinction.
The first round of CAO offers for places in Higher Education are due to come out next Monday.
Students who are unhappy with their Leaving Cert results may apply to view their scripts for free at one of three viewing sessions taking place on August 31 – September 1, where they will be supplied with the marking scheme used to grde their exams.
In order to view your script an application must be submitted by August 21 through your school.
If, after viewing the script, a student is still not happy with their results they can be appealed through the the SEC's Online Appeal Application Service at www.examinations.ie.
The appeals process opens at noon August 20 and closes to applications on the evening of Monday, September 3.