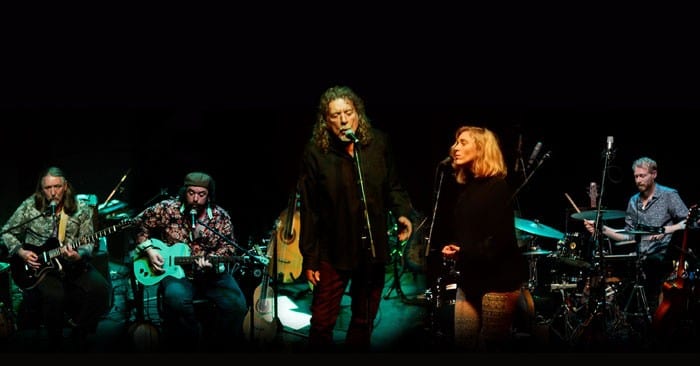 Tickets to go see Led Zeppelin frontman Robert Plant's new band Saving Grace at Galway International Arts Festival this summer have sold out in a matter of hours.
Plant, best known as the lead singer for rock legends Led Zeppelin, will be playing with his new acoustic band Saving Grace at St. Nicholas Collegiate Church on July 18.
The five person band consists of Suzi Dian on vocal, Oli Jefferson with the percussion, Tony Kelsey on mandolin, baritone and acoustic guitars, Matt Worley playing banjo, acoustic and baritone guitars, and cuatro, and of course Plant himself also providing vocals.
The band is described as a "co-operative" that have been performing at small venues since making their stage debut earlier this year.
With a sound that's been described as bluesy and folk-inspired, Saving Grace packs a punch ranging 'from a whisper to a scream'.
The concert at St. Nicholas' Church is in keeping with their ethos of playing smaller, more intimate venues.
Special guests The 4 of Us, best known for chart-topping albums in the late 1980s and early 1990s with songs like 'Mary' and 'She Hits Me' will be supporting.
Tickets for the limited capacity concert went on sale this morning at 9am, and have already sold out.
Tickets for this event are now SOLD OUT. Tickets for other tour dates may be available here: https://t.co/cbWbyA8AEx https://t.co/OvihkrY6kc

— Galway Int Arts Fest (@GalwayIntArts) May 3, 2019
Musical acts already confirmed for the 2019 GIAF include Burt Bacharach, Macy Gray, ORBITAL, Villagers, John Grant, The Academic, The Coronas, Two Door Cinema Club and Bell X1 who will all play the Heineken Big Top.
The full festival line up will be announced on May 15.