An 8-month-old Lurcher puppy has made an astonishing recovery at Galway SPCA's Heathlawn Animal Sanctuary in Killimor after a horrific ordeal.
Asna was discovered by a County Offaly family in their back garden over the October bank holiday weekend.
The family tried to call the local pound, but were unable to reach anyone on the Sunday.
By Monday, things had taken a turn for the worse – as the pup was found with terrible wounds on her right rear leg, possibly from a car accident.
She had also endured a very cold night in a serious condition and was near hypothermic.
The family immediately called gardaí, who rang up the Offaly Dog Warden – who in turn called a woman from the local Tipp Off Animal Rescue.
The two women managed to roll Asna onto a sheet and brought her to Tullamore Veterinary Clinic.
Once there, the vet gave the suffering dog pain meds and waited for her condition to stabilise.
Asna managed to pull through her tough first night and the couple of days that followed.
They gave the pup a blood transfusion to strengthen her before amputating the injured leg.
The brave little dog was eventually sent to the Heathlawn Animal Sanctuary – run by Galway SPCA – to recuperate.
"Her case is not unique, especially not for Lurchers like Asna," says Emma O'Brien, who has worked at Galway SPCA for about 15 years.
"They are a breed that are constantly being found and rehabilitated by rescues like us…a breed who are the most common sight in Ireland when it comes to neglect and cruelty and who are still not seen as family pets here in Ireland.
"Yet they are the gentlest, easiest, most loving breed."
Emma noted that the pup "arrived a little shell shocked, tired and confused" but soon recovered.
Her transformation is nothing short of astonishing.
In a Facebook post on the whole ordeal, Galway SPCA stated that Asna is now "hopping around our fields quite happily."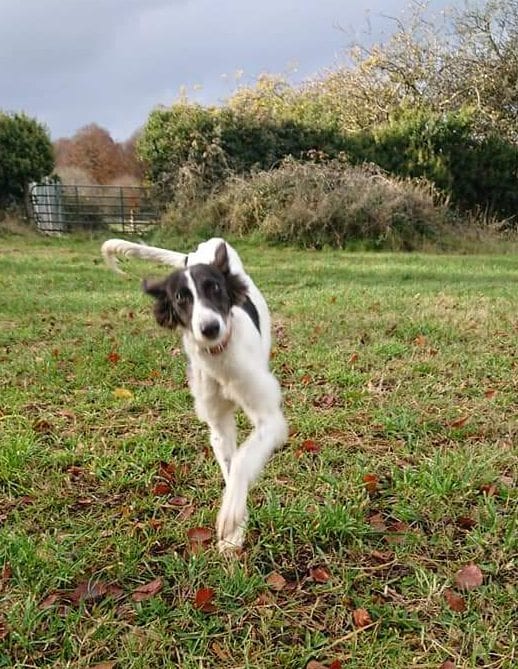 She has a friend – a Saluki with another leg injury – and the pair can be seen hobbling around together every day.
Asna is adjusting remarkably well to life on three legs.
And just over a week since her arrival in Galway, she took part in Galway SPCA's Hug a Dog day at GMIT.
"She is so so sweet," says Emma. "Sighthounds are so kind, and that is often their downfall when in the wrong hands.
"They never fight back – their temperaments are so forgiving.
"I just wish people in Ireland would see them for the amazing family dogs they are."
Galway SPCA stated that Asna is "already well on the mend", adding that "it's a true testament to her breed and trusting nature, her resilience and her bravery that she is here.
"We are honored and happy to be there for Asna, despite the fact she is just one of FIVE injured dogs with breaks that have come into our care in the last two weeks."
They also thanked all of those who went above and beyond to save her.
A campaign to raise funds for Asna's vet bills has already raised thousands of euro for her and for other dogs in need.
Thanks to the kindness of strangers, this little dog has bounced back from death's door with a new lease on life.
Asna is now ready to be put up for adoption – please contact Galway SPCA if you're interested in adopting her or another rescue animal.