This cottage in Connemara with stunning views offers bags of potential due to its location, surrounded by some of the most picturesque scenery in all of Ireland.
The property is located on the Sky Road Loop on Kingstown Peninsula, one of the most beautiful areas in the west of Ireland, and Clifden town is just eight kilometres east of the cottage – no more than a ten minute drive away.   
O'Donnellan and Joyce will be offering this property at their next live stream auction which will take place on 23 July, with an advised minimum value of just €90,000. 
Well-known for its stunning scenery, this former local post office lies less than two minutes east of Eyrephort Beach, which is famous for its fine sands and views of Inishturk Island.
The cottage has an idyllic setting in a rugged landscape with panoramic views of Streamstown Bay as its backdrop.
Full planning permission was granted in 2020 to redevelop the cottage to a three bedroom home of approx. 90.6 sq.m. with a living, kitchen and dining room, utility room, a main bathroom and master en suite, all on a site of approximately 0.35 acres.
The planning permission allows immediate construction on a ready to go basis of a new cottage including the services to it.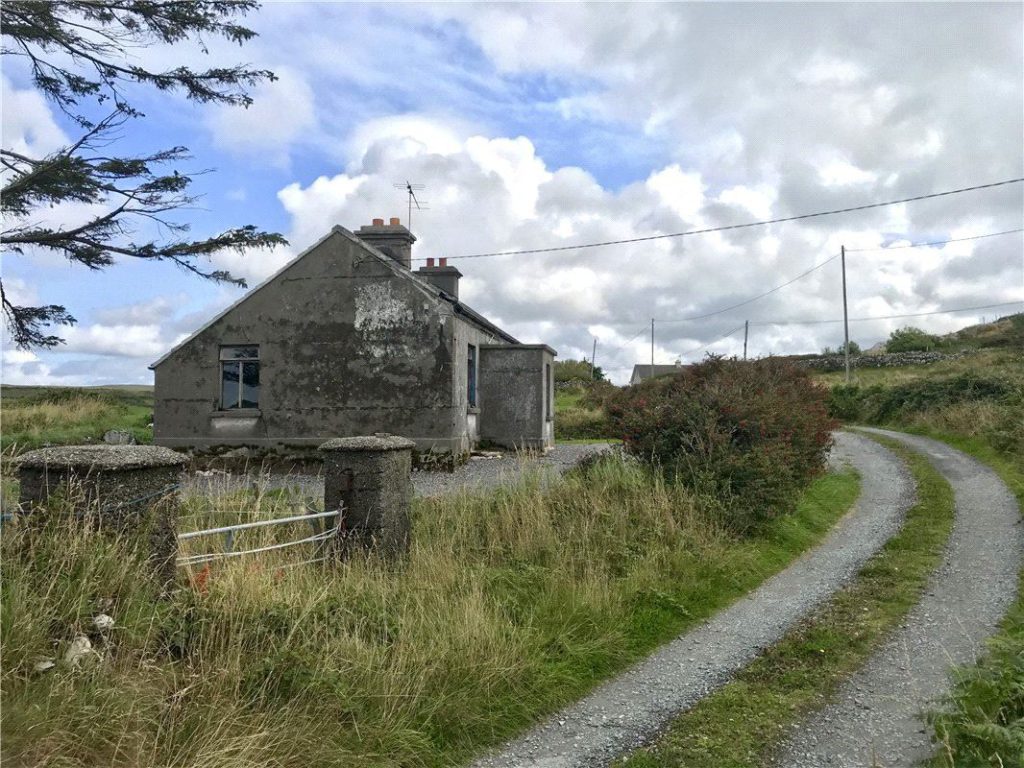 This will avoid the now all too familiar lengthy and increasingly expensive planning process, which is a normal requirement nowadays when one purchases a cottage. The planning permission is valid until 2025.
Additional attractions of its location include easy access to the harbour of Coolacloy that is used for the islands of Inishturk and Turbot Island and the port of Cleggan that is used to access Inishbofin and other offshore islands.
In addition there are numerous locations nearby for picturesque hill walking, boating and fishing activities.
To view more of this property which has bags of potential, visit: https://property.odonnjoyce.com/residential/brochure/kingstown-sky-road-clifden-co-galway/4510906
BER:G
Live Stream Auction
This property will be sold at the O'Donnellan & Joyce Live Stream Property Auction which takes place on Friday, July 23 at 12 midday. 
Over 40 homes, businesses, and plots from across the west of Ireland will be going under the hammer that day. 
In order to bid in the auction you must register beforehand on O'Donnellan & Joyce's website, with a booking deposit paid, by Wednesday July 21.
Only remote bidding will be allowed on the day due to COVID-19 restrictions. You may register to internet, telephone or proxy bid. Further details on the auction process can be obtained by contacting the auction team on 091 564 212 or by emailing info@odj.ie