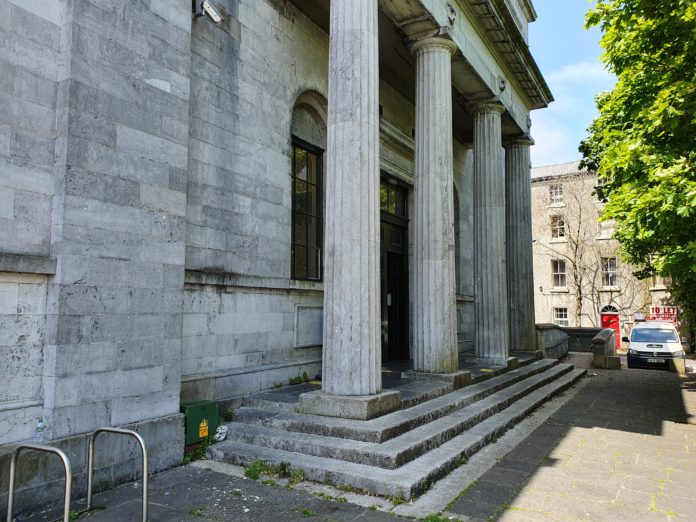 A man who caused life changing injuries to a young woman when she was hit in the face with a firework in Eyre Square has been sentenced to 18 months in prison.
Katie Marnell, who was 19 when this happened, gave a powerful and emotional statement to the court as she detailed how the events of that night still continue to affect her to this day.
She lost the sight in her left eye as a result of being struck in the face with a firework while standing at a bus stop in Eyre Square in the very early hours of October 22 of 2021.
Alex Byrne (23), of Furry Hill, Sandyford Road, Dundrum, was sentenced at Galway Circuit Court this week after pleading guilty to assault causing serious harm to Katie, as well as illegally igniting a firework.
In her victim impact statement she read to the court she said that she "struggles to find the words adequate to describe the pain" she felt lying on the ground with blood pouring down her face.
Shortly after midnight on October 22, she had been waiting at the bus stop opposite Supermac's in Eyre Square with two friends, waiting for another so they could get a taxi home.
She said that she heard a commotion and turned around, before suddenly experiencing excruciating pain. She recalled lying on the ground thinking that she was dying.
She said that she still deals with flashbacks and trauma from that night, as well as ongoing pain from migraines and nerve pain caused by the blast, and other medical issues that persisted in the aftermath.
The blast caused her to develop hearing loss in her left ear, and all the medications she was on resulted in an irregular heartbeat.
"It has been 446 days since it happened, and not a day has gone by that wasn't consumed by pain."
Losing the sight in her left eye permanently shattered the college student's dream of becoming a surgeon, and also affected her ability to paint and do ballet, hobbies she greatly enjoyed.
Doctors told her she was lucky to be alive, she said, as the projectile missed her brain by centimetres.
This has also had a huge financial effect on her and her family, with more than €20,000 in medical expenses in the past year. Her mother also had to give up her work for two months to care for Katie, and later cut down on her hours.
Katie said that she felt "violated" by the fact that someone would post a video of such an attack on social media.
With her statement, Katie handed in photos of herself before and shortly after the incident, to make it clear what effects illegal fireworks can have on someone's life.
Crowded public area
Detective Garda Gerry Carroll told the court that on the night in question, two Gardaí were on duty in Eyre Square when they were alerted to the fact that someone was shooting off a firework.
Garda Jonathan Burke and Garda Niall Mulhern attempted to catch the person who they had seen with the firework, but were blocked by the crowd when a member of the public said that a woman had been hurt.
They found Katie bleeding profusely on the ground at the bus stop by the taxi rank with two friends and called an ambulance.
Gardaí carried out an extensive operation gathering large amounts of CCTV footage from around the area, which captured the full incident and its aftermath.
Through the cameras they were able to track Byrne back to the Western Hotel Apartments on Prospect Hill.
Going through footage from inside the hotel they were able to identify the people staying there from when they checked in on the morning of the 21st.
Footage from the hotel also showed Byrne returning later in the afternoon, and leaving again with the firework concealed under his jacket.
A firework was recovered from the scene in Eyre Square, Det Garda Carroll said, an eight shot roman candle which was meant to be fired directly up.
Gardaí arrested Byrne in Dublin on November 17. He was interviewed twice by Gardaí and admitted setting off the firework in Eyre Square. He told Gardaí that he lost his grip on it as he was setting it off.
Det Garda Carroll told the court that at the time of the incident, Byrne was holding the firework in one hand, and trying to record it on his phone in the other. 
He said that he didn't realise he had hit someone until two days later, when he was shown a video of the incident circulating on social media. 
The reason he didn't come forward was that he panicked, Byrne said, and was worried about his job.
Garda Carroll said that while it didn't appear to be a planned attack, he had never seen an impact on a victim like this from an assault in all his years.
Taking the stand, Byrne read out a letter of apology to Katie Marnell, saying that if he could, he would take her injuries onto himself, "because you don't deserve it one bit".
He said that he had always tried to do what's right and help care for his family, and that he would never forgive himself for this.
He said that he had come up to Galway on the 21st to celebrate the birthday of a friend, and never intended to hurt anyone.
His barrister, Paul Flannery SC, said that what happened was "appalling and unjustified", but that this was an act of gross irresponsibility, not criminal intent.
Byrne, who lives with his mother and brother in Dublin, had not come to the attention of the Gardaí prior to this incident.
Judge Brian O'Callaghan was highly critical of the fact that someone would record something like this on their phone, and that it would be shared on social media.
He said that videos like this victimise people who have themselves already been the victims of a crime, all in a quest for attention.
"On behalf of your fellow citizens, this court apologises," Judge O'Callaghan said to Katie.
The judge said that this was a case of "recklessness, not criminal intent", but was also highly critical of the "selfishness" of "the fact that we think we can enjoy ourselves however we like without consideration for others."
Judge O'Callaghan took into account that Byrne had no previous convictions, that he cooperated with Gardaí and pleaded guilty, did not intend to hurt anyone and had shown genuine remorse, and was deemed a low risk of reoffending.
Aggravating the offence were the large number of people in the area when he chose to set off a firework, the judge said, and that he knew he should not have been in possession of one to begin with.
Judge O'Callaghan said that Byrne had to spend some time in prison, which he could use to think about his victim.
"She will have the rest of her life to think about what you did to her. You will not have that trouble."
He set the sentence at 33 months after mitigation, and suspended the final 15 months of the sentence for two years.
As part of the suspension, Byrne was ordered to pay that €3,000 to the victim within one month.