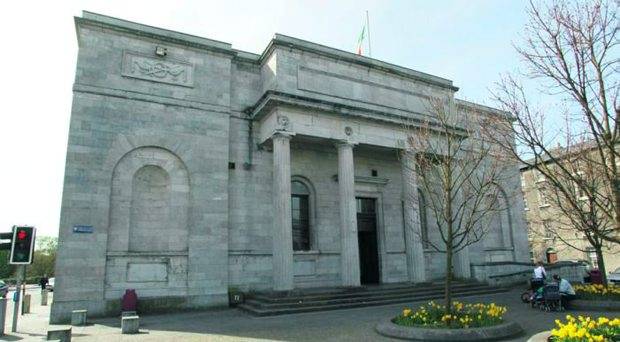 A woman received an 18 month prison sentence for a long run of stealing and shoplifting that included stealing from charity shops, staff at the UHG Emergency Department, and a man in a wheelchair.
Bridget Mongan (49), with an address at Cois na Coille Ballybane, pleaded guilty to a large number of thefts from people and business at Galway District Court, as well as breaking a window at the Galway Simon charity shop.
The bulk of the offences before the court took place on dates between August of 2019 and June of this year, at locations around Galway City.
The thefts included stealing from multiple charity shops, two nurses at University Hospital Galway, pick pocketing wallets at bars, and stealing from a man in a wheelchair.
The court heard that on June 27 of this year, at the weekend market by St. Nicholas' Church, Mongan stole a wallet containing €40 cash, a driver's licence, and two bank cards out of a woman's backpack.
One of those stolen cards was tapped at two different stores in Eyre Square Shopping Centre that day, for €66 at New Look and for €100 at Tekshop phone repair store.
That same day, Gardaí were called to University Hospital Galway to reports that a woman who had presented at the A&E as a patient had stolen nurses' property.
Mongan had come into the Emergency Department with a complaint of pain in her leg, and when alone in a room with a nurse's bag, swiped two bank cards.
Before being discovered she then asked if she could use the landline phone in one of the offices at the A&E, and when they let her in to the office she stole the mobile phone of another nurse.
She was caught at the hospital before she could leave, and when confronted by Gardaí she eventually returned the items.
The week beforehand, on June 21 at approximately 9:20pm, Gardaí got a report of severe damage to a window of the St Vincent de Paul charity shop on Merchant's Road.
A witness saw a woman repeatedly hit the window of the shop with a bottle. Gardaí identified Mongan off CCTV footage. The window needed to be replaced, at a cost of €390.
Three pairs of trousers and a jacket were stolen from the Galway Simon Store on Sea Road on August 17, 2019, and three days later she returned and stole a phone off a woman in the store.
On November 9 of last she stole bed linen valued at €30 from the Irish Cancer Society shop on Merchant's Road, and then on December 9 she approached a man in a wheelchair in Eurogiant on Eglinton Street, and stole a wallet from the bag of his wife, which was at the rear of the wheelchair.
The earliest offence before the court was the shoplifting of €45 of groceries from Dealz on the Headford Road on March 13 of 2019.
Other charges included two incidents of shoplifting CDs from Zhivago on Shop Street, and stealing wallets and purses from women at the Skeff and Tig Coili bars in August and November of 2019.
Solicitor for the defence Michael Cunningham said that his client has suffered from addictions to pain medication since a road traffic accident in 2015.
She has been receiving treatment for her addiction issues and is weaning off medication now, he added, after failed efforts at detox in the past.
"She stole from somebody in a wheelchair, she stole from nurses who were more than kind to her," Judge Mary Fahy said of some of the more serious offences.
Judge Fahy added that she has shown "no respect" for previous chances given to her by the court, referring to a suspended sentence given in 2018.
She added that Mongan seems to have targeted vulnerable places such as "in a hospital where people are busy, or in a charity shop where people wouldn't think someone would be so low."
In total Judge Fahy sentenced Mongan to a total of 18 months in prison, starting with six months for the theft at the market.
Consecutive sentences of five months for the theft from the man in the wheelchair, four months for stealing the phone at UHG, three months for breaking the window at St Vincent de Paul's were added to this.
The judge also imposed concurrent sentences of four months for stealing bank cards from the nurse at UHG, and one month concurrent sentences on all the other charges.
Recognisance was fixed at €1,200 in the event of an appeal, €600 of her own bond and a €600 independent surety.