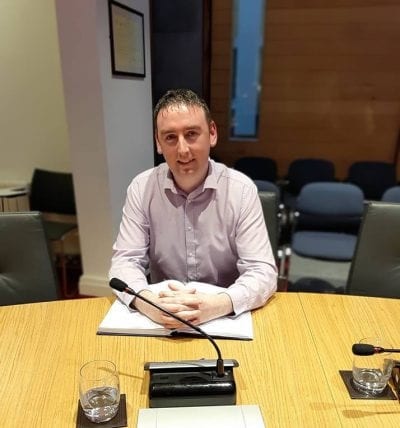 Mayor Mike Cubbard has said that urgent intervention is needed from the government to support businesses closing due to the coronavirus pandemic.
Many more businesses are expected to close this week to limit the situations where people can spread the Covid-19 coronavirus, joining pubs, creches, and other businesses which have shut their doors.
Mayor Cubbard described the current situation as "uncharted waters" and cautioned that people are facing an uncertain future.
"In recent days pub, restaurant and childcare workers have seen their place of employment close.
"Many more may follow in retail, hospitality and tourism to name but a few," Mike Cubbard said.
Up to 200,000 jobs could be lost in the next week due to restrictions put in place to combat the spread of coronavirus, Retail Excellence Ireland has said.
That's on top of 140,000 jobs that have already been lost due to the closure of businesses.
In order to help SMEs survive through this time, Mayor Cubbard said that the government should intervene in the area of rates, insurance, mortgages/rent, and interest rates.
He suggested that a local authorities should suspend commercial rates, and the government should use emergency funding to finance councils for 2020 to make up for the lost rates.
In addition he pointed out that for many businesses, the risks that inform the price of their insurance have changed in recent days.
"A closed pub, restaurant or creche only has a fire & theft risk and the liability to the public is no longer a factor."
Insurance companies should guarantee that policyholders whose businesses have closed will be able to get a rebate.
"In recent days I have heard of a small business owner who went to his bank seeking their support to defer a mortgage payment so he could continue to pay his staff."
"Incredibly, the bank offered him a loan to cover his shortfall at an 8.5% interest rate."
Mayor Cubbard said that financial institutions which were bailed out by taxpayers in the crisis should not be allowed to become "opportunistic vultures", and said that a freeze on mortgage and rent payments should be introduced.
"These are extreme but necessary measures in a time when many closing their door due to no fault of their own are unsure if they will ever open again."
The Restaurants Association of Ireland has asked the government to order restaurants shut, saying that social distancing simply isn't working to stop the spread of Covid-19.
Minister for Finance Paschal Donohoe will be meeting with bank chiefs on Wednesday to discuss their response to the impact of the coronavirus pandemic.
Among the issues which are expected to be discussed are the many people seeking a deferment of payments on loans and mortgages, and what they are doing to help people secure short term loans and overdrafts.