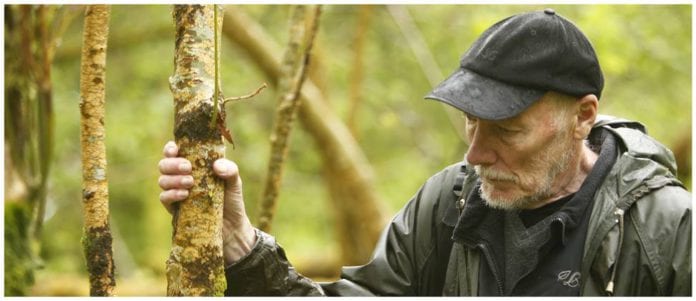 TG4 will broadcast Tim Robinson: Connemara at 9.30pm this evening (Wednesday) – a film based on his three Connemara books which have reached international recognition.
The film is a visual interpretation of Tim Robinson's work as a mapmaker and writer, and is an atmospheric exploration of landscape, history and mythology.
Funded by the Arts Council of Ireland Reel Art scheme it has never been broadcast on TV before. When this film was made in 2010, Tim Robinson had been extensively mapping and studying Connemara for the previous thirty years.  
The finished film premiered at the Dublin Film Festival in 2010 and screened in many festivals and cinemas in Ireland and abroad.
Director Pat Collins said: "It would have been lovely for me personally to bring Tim's work to a wider audience through television, while he was still alive.
"Sadly, Tim Robinson, writer, artist and cartographer, born 26 March 1935 died on the 4rd of April 2020 – two weeks after his partner Mairéad died. Tim was a victim of the coronavirus."
Speaking about his film being broadcast for the first time Pat said: "I'm delighted that TG4 is showing the film.
"I think Tim has made an incredible contribution to this country. I could say that he was one of the truest artists I've ever met.
"He was completely unified in his life, ideas and art. It was genuinely a great honour to have known him and spend time with himself and Máiréad.
"I think the whole crew, including myself, Colm Hogan on camera, John Brennan on sound, the editor Keith Walsh, the composer Susan Stenger and Sharon Whooley the producer, enormously enjoyed working on this film.
"It felt like a profound experience, even at the time – which is actually rare enough."
Explaining why he undertook his map of Connemara Tim Robinson said that he had a conception filling his head of the correspondingly strange map he could make of it.
"Having selected this particular stretch of coast because its near unmappability perversely suggested the possibility of mapping it, I had felt the idea of walking its entire length impose itself like a duty.
"Because it seemed to me necessary to go everywhere and see everything before I had the right to represent anything on my drawing. There is scarcely anything on the map I haven't set eyes on for myself.
"I used to hope that the intensity of my physical experience of Connemara would burn through all these layers of methodological tracing paper into the final drawing, making it not just a factual record, but an expression of a feeling.
"There are a lot of contradictory feelings about the place. Perhaps, if I vividly remembered walking along a certain shingle bank I would be able to put some echo of my footsteps into the dots representing it on my map," he said.
Tim speaks about his experience of Roundstone bog in the film (from an archive interview recorded by Loopline Films) saying: "I think we're living in cars and in houses so much and in television and so on, that we are, perhaps, losing touch with the outside world.
"And I get such joy out of being out exploring this landscape and being alone in it, out in the bogs or up on the hills, or on the shore.
"I feel it's a terrible shame that very few people are enjoying that. I never, ever meet anybody out in Roundstone Bog. In two, three decades of exploring out there, I don't think have I… Maybe, once or twice… have I seen somebody out in Roundstone Bog."
Tim was also in awe of the landscape of the Aran Islands saying that what we have here is one of the 'strangest and most interesting places' in the world.
"This is a singular place; humanity and nature working on each other for centuries have brought forth a landscape which is not paralleled anywhere else in the world.
"Fifteen hundred miles of stone walls separating fourteen thousand little fields; an astonishing communal creation, a vast monument to the labour of generations."