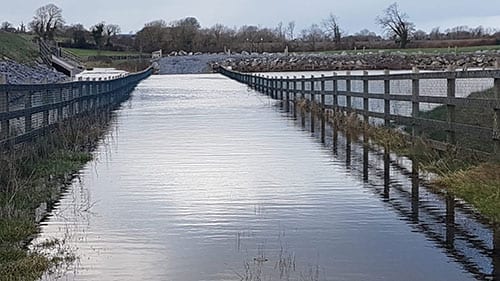 All of Ireland is being placed under a weather advisory this week, as Met Eireann has warned that further flooding is possible.
The forecaster has warned that from Monday night onwards there will be spells of heavy rain, possibly causing localised flooding due to already waterlogged ground.
This weather advisory, which is not yet at the level of county specific weather warnings, will be in effect until midnight on Friday.
"This week across Ireland from Monday night onwards, spells of rain, which will be heavy at times, coupled with already saturated soils, may lead to localised flooding," Met Eireann said.
Wexford was particularly badly hit by terrible flooding on Christmas Day, which saw many homes evacuated by the Coast Guard and RNLI in lifeboats and Rescue helicopters.
Galway is only forecast to receive some light rain on Monday, turning persistent in places overnight, but clearing up from Tuesday morning.
Further spells of at times heavy rain are forecast for the county early Wednesday and on Thursday evening.