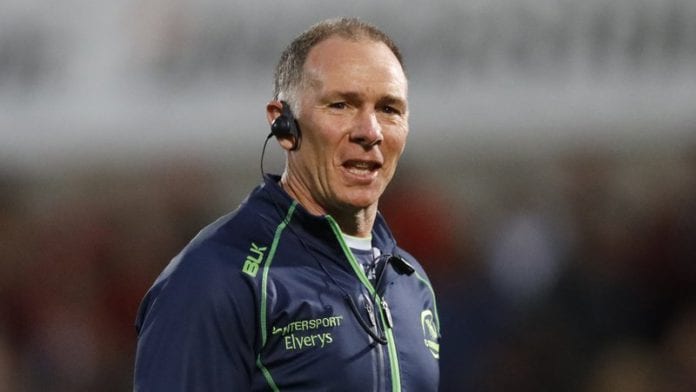 Line speed and effective kicking will be key to combatting the offensive threat of the Ospreys when Andy Friend's Connacht side face them this weekend.
Connacht will face the Welsh team this Sunday, January 24 at the Sportsground in the Guinness PRO14, after the match was rescheduled from last November.
Head Coach Andy Friend said that maintaining strong defensive line speed is essential to counteract the potent attacking game that the Ospreys have developed under Toby Booth.
"They do have a, with Toby Booth coming in this year, healthy attack. Toby comes from Quins [Harlequins] and London Irish and Bath, and I have worked against Toby many years ago and you know he wants to throw that ball around."
"The other important part to us is the way we kick," the former Australian sevens coach said. "They have got a pretty dangerous back three, so we reckon an area we'll be able to get an advantage over them is our line out.
"Our line out defence has been superb this year, so we won't be afraid to put the ball off the field, rather than give it to their back three, and try to challenge their line out from there."
Connacht have the advantage that they will be going into this confrontation well rested, after having a week off with no game scheduled since their loss to Munster.
"I said to a few of the boys that I saw this morning, 'as much as I like you blokes, it was nice not seeing you for a week'," commented Andy Friend.
"It was the break we probably all needed. I'm not going to say we had a break because there's still a lot going on, but a change in routine. People bounced back in this morning and there's a spring in the step and we're looking forward to what this weekend brings us."
Connacht are currently placed second in Conference B in the GuinnessPRO14 League with 26 points, behind only Munster in the same conference.
The Ospreys are in third place in Conference A, led by Ulster and Leinster.