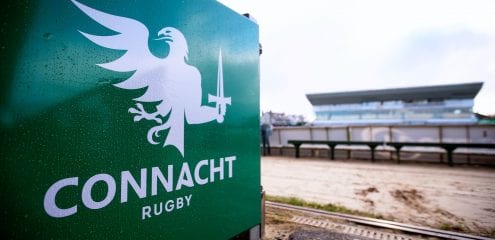 Connacht will need a "robust" defence in order to win against Benetton Rugby this Friday as they head into the final stretch of the Guinness PRO14.
While the Italian side are so far without a single win this season, Connacht defensive coach Pete Wilkins believes that Connacht needs to be wary of their kicking game, and how quickly they can shift from defence to offence.
"For me, I think Benetton's biggest threat is coming out of their own half," the former Queensland Reds' defensive coach said of the Treviso-based team's best tactical attribute.
"They kick long and effectively, in terms of the distances they get when they are exiting. But they are also very dangerous running out from that bit of the field.
"They are not afraid to take risks and offload out of tackles when they are coming out of their what we call C zone, coming out of that area between the 22-metre line and halfway."
"They will take risks and they will play to width. How we control them getting access to the ball will be really important in that regard," Pete Wilkins said.
"The quality of our kicking game, not conceding attacking turnovers in their half of the field, that will be important in terms of denying them access to the game."
Connacht are coming in strong on the back of two successive wins. Last Friday's 32-17 victory over the Cardiff Blues at the Sportsground also marked the end of a rough string of defeats on the Eagles home turf.
This Friday's trip to Italy is the first of four successive games that Connacht Rugby will be playing in the coming weeks, with Wilkins saying their only goal is to qualify for the final.
Connacht have won their last two Guinness PRO14 matches against Cardiff and the Dragons, and will be hoping to maintain that momentum in Italy this Friday.
There's certainly a positive atmosphere among all involved in the club at the moment, with new lock Oisín Dowling saying that the positive environment among staff and players was a big part of helping him settle after joining from Leinster.
"Obviously there's a difference between coaches and players, but everyone gets on really well, like friends. There's always good craic between each other and I think that helps the team and the bond with the players and the coaches."
Connacht v Benetton will take place this Friday, February 26, with kick-off at 5:30pm Irish Time.