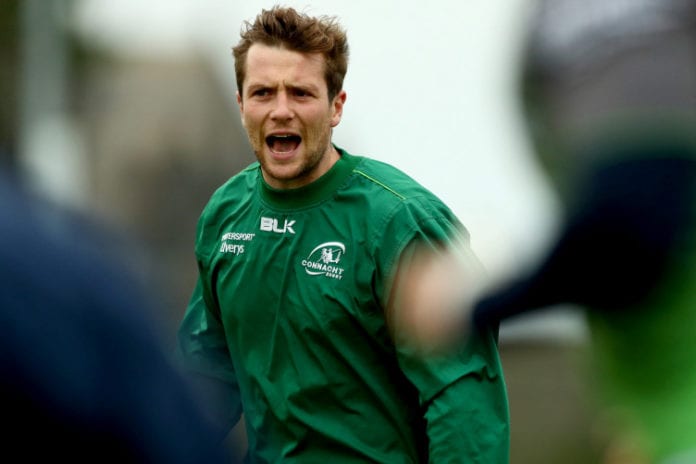 Connacht have named their matchday 23 man squad for this weekend's game against the Emirates Lions in Galway.
Connacht and the Lions will meet at the Sportsground this Saturday, with kick-off at 7:35pm, in the BKT United Rugby Championship.
Director of Rugby Andy Friend said that this will mark the end of a long block of games for Connacht, and they're determined to go out on a high note.
"If we get the win we head into the next block well in the running for a playoff spot – while achieving our aim of reaching the Challenge Cup knockouts – so it's not a bad spot to be in.
He added that, "We're fully aware however that we need a win tomorrow to put ourselves in that position."
Jack Carty is back in the Captain's chair after missing last week's game against Newcastle due to injury, and he's chasing a record in the making.
Just six points in the game will see him equal  Eric Elwood's all-time scoring record of 1152 points for the province.
Scrum-half Caolin Blade is named alongside him while Cathal Forde and Tom Farrell are named at inside and outside-centre respectively.
Tiernan O'Halloran lines out at full back for his 215th Connacht appearance with John Porch and Diarmuid Kilgallen on the wings.
The pack sees the Murray brothers Darragh and Niall paired together in the second row, while props Peter Dooley and Jack Aungier come in alongside hooker Shane Delahunt.
Josh Murphy moves from the second row to blindside flanker, while Conor Oliver and Jarrad Butler are retained at 7 and 8.
Andy Friend acknowledged that the Lions are a "formidable outfit", who have improved since debuting last year, and that there's a challenge ahead for Connacht.
CONNACHT RUGBY MATCHDAY 23 VS EMIRATES LIONS
Saturday 28th January, 19:35 @ The Sportsground
Number/Name/Caps
15. Tiernan O'Halloran (214)
14. Diarmuid Kilgallen (12)
13. Tom Farrell (90)
12. Cathal Forde (7)
11. John Porch (72)
10. Jack Carty (190) (C)
9. Caolin Blade (161)
1. Peter Dooley (12)
2. Shane Delahunt (124)
3. Jack Aungier (43)
4. Darragh Murray (5)
5. Niall Murray (47)
6. Josh Murphy (11)
7. Conor Oliver (54)
8. Jarrad Butler (107)
16. Dylan Tierney-Martin (15)
17. Jordan Duggan (34)
18. Dominic Robertson-McCoy (76)
19. Leva Fifita (22)
20. Shamus Hurley-Langton (12)
21. Kieran Marmion (222)
22. Tom Daly (71)
23. Oran McNulty (12)