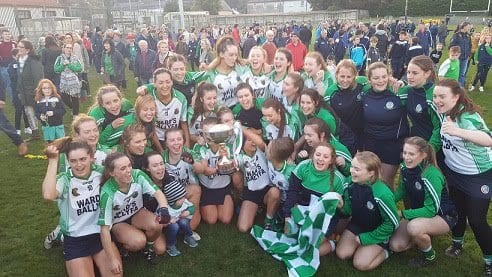 Twelve months after suffering defeat to the same opposition, Sarsfields are back in the All-Ireland Senior Club Camogie Final when they face Slaughtneil on Sunday. 
The Derry champions were 1-10 to 0-11 winners in 2017 and will be looking for back-to-back titles while Sarsfields go in search of a maiden triumph.
https://www.facebook.com/sarsfields2016/photos/a.991456254294763.1073741825.991453010961754/1556911701082546/?type=3&theater
Aisling Spellman is an important cornerstone of the Sarsfields full back line alongside Rachel Murphy and Laura Ward.  She chatted to Galway Daily ahead of Sunday's game.
"It's any club's dream to be back in Croke Park again for a second year in-a-row.  We did take it hard last year, the defeat.  We were disappointed for a long time.  But this is what we were aiming for all year and we're just glad to have another crack at it really.
"We watched the video back.  We feel it went down to small margins really.  It was two points for a finish but we see that it was little mistakes here and there that we did that influenced the overall outcome.  And we hope to have rectified them.
"We hope to have worked on them.  And we feel that we're in a better place.  We've more experience of the actual pitch itself as well so we're hoping to add to it this year as well.
"We really produced on the day there.  But in saying that, we're looking to reproduce that and give another extra 20-30% on top of that.  So, we really have to be on our game.  We're under no illusions what the Slaughtneil team are like.
"They're a few additions to add which will only strengthen them up.  But we're hoping if we can reproduce a great performance and give it that extra bit, that we'll challenge that.  They're favourites and we'll challenge that."
Hear the full interview BELOW
Sarsfields face Slaughtneil in the AIB All-Ireland Senior Club Camogie Final this Sunday (18th March).  Throw-in at Croke Park is 3.30pm.
https://www.facebook.com/sarsfields2016/photos/pcb.1556066881167028/1556066191167097/?type=3&theater