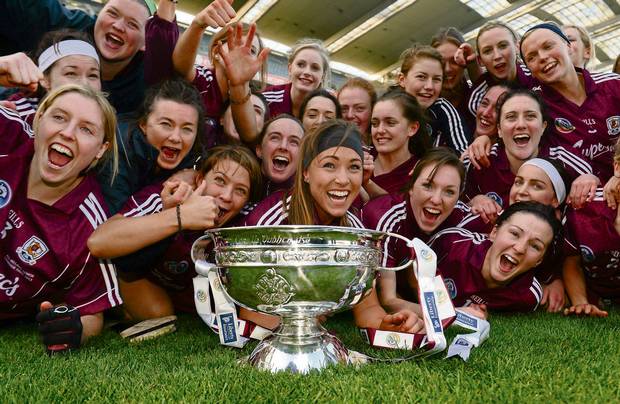 Our final week of the 'Galway's Greatest' twitter series is dedicated to the ladies with two competitions and here, we are asking our followers to help us decide who is 'Galway's Greatest Camogie Player.'  
We decided to keep it to 104 entries but the format will be the same as the hurling and football competitions with four rounds taking place on twitter between Monday and Thursday.  However, we do hope that we covered all the bases regarding serious contenders for the overall title.
After 17 years waiting, Therese Maher was crowned the 'Queen of Galway Camogie' in 2013 when she signed off on a stunning career by finally getting her hands on the O'Duffy Cup.  She will be one of the favourites but there are many contenders from two winning teams.
Ailish O'Reilly was Galway's goal scorer that year while Susan Earner, Sarah Dervan, Lorraine Ryan, Niamh Kilkenny and Niamh McGrath also walked away with All-Stars.  But before the personal accolades were introduced, the trailblazers from 1996 put Galway camogie on the map.
The initial Galway All-Ireland winners were decorated with star names like Olive Costello, Ann Broderick, Pamela Nevin, Martina Harkin and Veronica Curtin along with captain Imelda Hobbins, two goal hero Denise Gilligan and the creative Sharon Glynn.
Others who deservedly are in contention for honours include Sinead Cahalan, Regina Glynn, Ann Marie Hayes and Brenda Hanney.  While others who flew the Galway flag before 1996 include Kathleen Quinn, Kathleen O'Flaherty, Josie Kelly and Nono McHugh.
So, how are we going to work this out?  Galway Daily's 104 players to be reduced to the final four over as many days and we will have four rounds of 15-hour twitter polls to decide the overall winner.  There's no fool proof method in picking the starting line-up but we hope we've all our angles covered.
Round One will consist of 26 groups of four players with 56 qualifying (top two in each group plus four best third placed players based on percentage gained).  Any ties will be decided by the Galway Daily adjudicating panel.
Round Two on Tuesday will see 14 groups of four players with 16 advancing (the winners and two best runners-up).
Round Three on Wednesday will have four groups of four with the winners advancing to Thursday's final.  A random draw has sorted the opening day polls but the percentage gained will see the participants in the subsequent rounds.
So, it's simple!  Go on to our Twitter page and vote for your favourite.  We'd hope you would like our page as well.  And follow our reports every day until we learn who the Galway Daily followers have decided is Galway's Greatest Camogie Player.
GALWAYS GREATEST CAMOGIE PLAYER BEGINS!!!

Round 1: MATCH #1 of 26

Which of these would you consider to be Galway's Greatest Camogie Player and deserving of a place in the next round. The top two guaranteed to advance.@GalwayCamogie96 @OfficialCamogie #galwaysgreatest

— Galway Daily (@GalwayDaily) May 28, 2018
GALWAYS GREATEST CAMOGIE PLAYER BEGINS!!!

Round 1: MATCH #2 of 26

Which of these would you consider to be Galway's Greatest Camogie Player and deserving of a place in the next round. The top two guaranteed to advance.@GalwayCamogie96 @OfficialCamogie #galwaysgreatest

— Galway Daily (@GalwayDaily) May 28, 2018
GALWAYS GREATEST CAMOGIE PLAYER BEGINS!!!

Round 1: MATCH #3 of 26

Which of these would you consider to be Galway's Greatest Camogie Player and deserving of a place in the next round. The top two guaranteed to advance.@GalwayCamogie96 @OfficialCamogie #galwaysgreatest

— Galway Daily (@GalwayDaily) May 28, 2018
GALWAYS GREATEST CAMOGIE PLAYER BEGINS!!!

Round 1: MATCH #4 of 26

Which of these would you consider to be Galway's Greatest Camogie Player and deserving of a place in the next round. The top two guaranteed to advance.@GalwayCamogie96 @OfficialCamogie #galwaysgreatest

— Galway Daily (@GalwayDaily) May 28, 2018
GALWAYS GREATEST CAMOGIE PLAYER BEGINS!!!

Round 1: MATCH #5 of 26

Which of these would you consider to be Galway's Greatest Camogie Player and deserving of a place in the next round. The top two guaranteed to advance.@GalwayCamogie96 @OfficialCamogie #galwaysgreatest

— Galway Daily (@GalwayDaily) May 28, 2018
GALWAYS GREATEST CAMOGIE PLAYER BEGINS!!!

Round 1: MATCH #6 of 26

Which of these would you consider to be Galway's Greatest Camogie Player and deserving of a place in the next round. The top two guaranteed to advance.@GalwayCamogie96 @OfficialCamogie #galwaysgreatest

— Galway Daily (@GalwayDaily) May 28, 2018
GALWAYS GREATEST CAMOGIE PLAYER BEGINS!!!

Round 1: MATCH #7 of 26

Which of these would you consider to be Galway's Greatest Camogie Player and deserving of a place in the next round. The top two guaranteed to advance.@GalwayCamogie96 @OfficialCamogie #galwaysgreatest

— Galway Daily (@GalwayDaily) May 28, 2018
GALWAYS GREATEST CAMOGIE PLAYER BEGINS!!!

Round 1: MATCH #8 of 26

Which of these would you consider to be Galway's Greatest Camogie Player and deserving of a place in the next round. The top two guaranteed to advance.@GalwayCamogie96 @OfficialCamogie #galwaysgreatest

— Galway Daily (@GalwayDaily) May 28, 2018
GALWAYS GREATEST CAMOGIE PLAYER BEGINS!!!

Round 1: MATCH #9 of 26

Which of these would you consider to be Galway's Greatest Camogie Player and deserving of a place in the next round. The top two guaranteed to advance.@GalwayCamogie96 @OfficialCamogie #galwaysgreatest

— Galway Daily (@GalwayDaily) May 28, 2018
GALWAYS GREATEST CAMOGIE PLAYER BEGINS!!!

Round 1: MATCH #10 of 26

Which of these would you consider to be Galway's Greatest Camogie Player and deserving of a place in the next round. The top two guaranteed to advance.@GalwayCamogie96 @OfficialCamogie #galwaysgreatest

— Galway Daily (@GalwayDaily) May 28, 2018
GALWAYS GREATEST CAMOGIE PLAYER BEGINS!!!

Round 1: MATCH #11 of 26

Which of these would you consider to be Galway's Greatest Camogie Player and deserving of a place in the next round. The top two guaranteed to advance.@GalwayCamogie96 @OfficialCamogie #galwaysgreatest

— Galway Daily (@GalwayDaily) May 28, 2018
GALWAYS GREATEST CAMOGIE PLAYER BEGINS!!!

Round 1: MATCH #12 of 26

Which of these would you consider to be Galway's Greatest Camogie Player and deserving of a place in the next round. The top two guaranteed to advance.@GalwayCamogie96 @OfficialCamogie #galwaysgreatest

— Galway Daily (@GalwayDaily) May 28, 2018
GALWAYS GREATEST CAMOGIE PLAYER BEGINS!!!

Round 1: MATCH #13 of 26

Which of these would you consider to be Galway's Greatest Camogie Player and deserving of a place in the next round. The top two guaranteed to advance.@GalwayCamogie96 @OfficialCamogie #galwaysgreatest

— Galway Daily (@GalwayDaily) May 28, 2018
GALWAYS GREATEST CAMOGIE PLAYER BEGINS!!!

Round 1: MATCH #14 of 26

Which of these would you consider to be Galway's Greatest Camogie Player and deserving of a place in the next round. The top two guaranteed to advance.@GalwayCamogie96 @OfficialCamogie #galwaysgreatest

— Galway Daily (@GalwayDaily) May 28, 2018
GALWAYS GREATEST CAMOGIE PLAYER BEGINS!!!

Round 1: MATCH #15 of 26

Which of these would you consider to be Galway's Greatest Camogie Player and deserving of a place in the next round. The top two guaranteed to advance.@GalwayCamogie96 @OfficialCamogie #galwaysgreatest

— Galway Daily (@GalwayDaily) May 28, 2018
GALWAYS GREATEST CAMOGIE PLAYER BEGINS!!!

Round 1: MATCH #16 of 26

Which of these would you consider to be Galway's Greatest Camogie Player and deserving of a place in the next round. The top two guaranteed to advance.@GalwayCamogie96 @OfficialCamogie #galwaysgreatest

— Galway Daily (@GalwayDaily) May 28, 2018
GALWAYS GREATEST CAMOGIE PLAYER BEGINS!!!

Round 1: MATCH #17 of 26

Which of these would you consider to be Galway's Greatest Camogie Player and deserving of a place in the next round. The top two guaranteed to advance.@GalwayCamogie96 @OfficialCamogie #galwaysgreatest

— Galway Daily (@GalwayDaily) May 28, 2018
GALWAYS GREATEST CAMOGIE PLAYER BEGINS!!!

Round 1: MATCH #18 of 26

Which of these would you consider to be Galway's Greatest Camogie Player and deserving of a place in the next round. The top two guaranteed to advance.@GalwayCamogie96 @OfficialCamogie #galwaysgreatest

— Galway Daily (@GalwayDaily) May 28, 2018
GALWAYS GREATEST CAMOGIE PLAYER BEGINS!!!

Round 1: MATCH #19 of 26

Which of these would you consider to be Galway's Greatest Camogie Player and deserving of a place in the next round. The top two guaranteed to advance.@GalwayCamogie96 @OfficialCamogie #galwaysgreatest

— Galway Daily (@GalwayDaily) May 28, 2018
GALWAYS GREATEST CAMOGIE PLAYER BEGINS!!!

Round 1: MATCH #20 of 26

Which of these would you consider to be Galway's Greatest Camogie Player and deserving of a place in the next round. The top two guaranteed to advance.@GalwayCamogie96 @OfficialCamogie #galwaysgreatest

— Galway Daily (@GalwayDaily) May 28, 2018
GALWAYS GREATEST CAMOGIE PLAYER BEGINS!!!

Round 1: MATCH #21 of 26

Which of these would you consider to be Galway's Greatest Camogie Player and deserving of a place in the next round. The top two guaranteed to advance.@GalwayCamogie96 @OfficialCamogie #galwaysgreatest

— Galway Daily (@GalwayDaily) May 28, 2018
GALWAYS GREATEST CAMOGIE PLAYER BEGINS!!!

Round 1: MATCH #22 of 26

Which of these would you consider to be Galway's Greatest Camogie Player and deserving of a place in the next round. The top two guaranteed to advance.@GalwayCamogie96 @OfficialCamogie #galwaysgreatest

— Galway Daily (@GalwayDaily) May 28, 2018
GALWAYS GREATEST CAMOGIE PLAYER BEGINS!!!

Round 1: MATCH #23 of 26

Which of these would you consider to be Galway's Greatest Camogie Player and deserving of a place in the next round. The top two guaranteed to advance.@GalwayCamogie96 @OfficialCamogie #galwaysgreatest

— Galway Daily (@GalwayDaily) May 28, 2018
GALWAYS GREATEST CAMOGIE PLAYER BEGINS!!!

Round 1: MATCH #24 of 26

Which of these would you consider to be Galway's Greatest Camogie Player and deserving of a place in the next round. The top two guaranteed to advance.@GalwayCamogie96 @OfficialCamogie #galwaysgreatest

— Galway Daily (@GalwayDaily) May 28, 2018
GALWAYS GREATEST CAMOGIE PLAYER BEGINS!!!

Round 1: MATCH #25 of 26

Which of these would you consider to be Galway's Greatest Camogie Player and deserving of a place in the next round. The top two guaranteed to advance.@GalwayCamogie96 @OfficialCamogie #galwaysgreatest

— Galway Daily (@GalwayDaily) May 28, 2018
GALWAYS GREATEST CAMOGIE PLAYER BEGINS!!!

Round 1: MATCH #26 of 26

Which of these would you consider to be Galway's Greatest Camogie Player and deserving of a place in the next round. The top two guaranteed to advance.@GalwayCamogie96 @OfficialCamogie #galwaysgreatest

— Galway Daily (@GalwayDaily) May 28, 2018