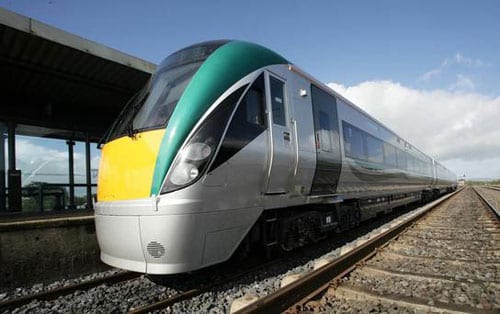 Commuting can be stressful at the best of times but it was especially so for one woman who gave birth on the train from Galway to Dublin this week.
The 3:05 service from Ceannt to Heuston was coming up on Kildare around 5pm on Tuesday when the woman went into labour and had to give birth right there in the carriage.
The young woman, who was there on her own, received medical assistance for the delivery from a nurse and Donegal native GP Alan Devine who were also aboard the train.
Dr Devine told the Irish Times that he was on his way to Dublin for a medical conference and was watching the new Chernobyl miniseries on his iPad when the train stopped.
"The woman sitting opposite me then asked if was a doctor, and I said I was. She told me there was a woman giving birth further up the train, so I looked up and could see a security guy in hi-vis between carriages holding a towel up to the door."
The GP added that it "wasn't really my field at all", but despite not having practiced delivering a baby since medical training, and with a distinct lack of proper equipment, he and the Irish nurse helped her through it.
"There was an Irish nurse helping her, and there was an American tourist in her seventies holding her hand and coaching her through the labour."
Staff aboard the train were on the phone with the emergency services in Kildare while this was taking place to get an ambulance out to them.
After about half an hour a healthy baby girl was delivered to the immediate relief and joy of everyone there.
People aboard the train were incredibly respectful throughout the whole event according to Dr Devine with, no complaints about having to wait or trying to see what the fuss was.
An ambulance crew was there within a few minutes of the birth and brought the mother and daughter to Coombe Hospital.