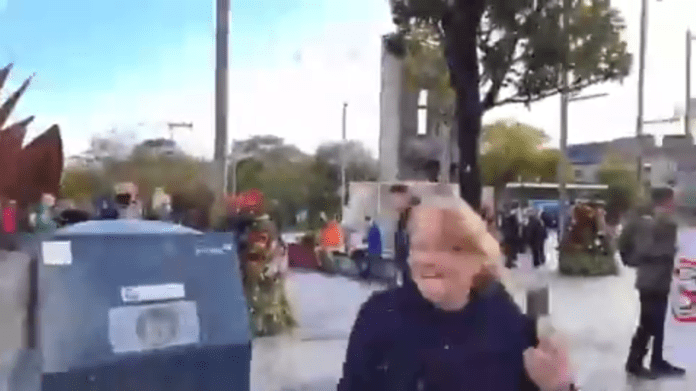 A group of anti-maskers gathered at Eyre Square with large banners and tricolours yesterday, flouting public health restrictions and shouting abuse at passers by.
One woman at the protest who was not wearing a face covering deliberately coughed at a group of young people on Eyre Square.
The coughing woman appears to be Dolores Webster, AKA Dee Wall, who is known to attend anti-lockdown marches alongside prominent figures who believe Covid-19 to be a hoax.
Banners at the rally included: 'Only Slaves Wear Masks' and 'RTÉ is the Virus' – and it is understood some of those at the protest travelled from Dublin to be there.
Garda officers were at Eyre Square at the time, but did not intervene.
Some counter protesters also gathered, who were socially distanced and wore face masks.
"Agitators travelled from Dublin to Galway to attend an anti-mask protest today and cough on teenagers," said City Councillor Owen Hanley.
"Disgusting abuse and flouting of Covid restrictions. A handful of people are being allowed to insult our society's struggle in fighting this pandemic and it shouldn't continue."