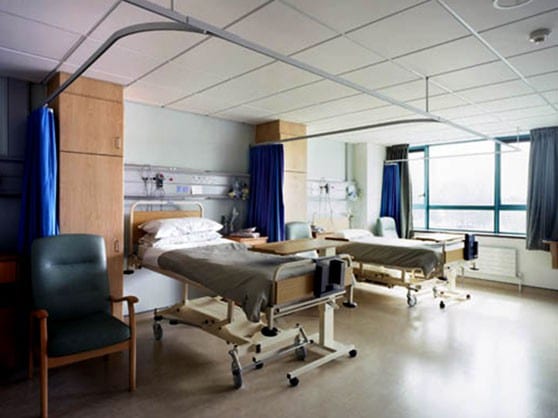 University Hospital Galway has the highest rate of instrumentally assisted births in the country according to a new report report from Cuidiú, the Irish Childbirth Trust.
The Bump2Babe Consumer Guide to Maternity Services found that nearly 20% of births at UHG had to be instrumentally assisted in 2017, with that rising to nearly 40% for first-time mothers. That's the highest rate of all 19 maternity units included in the study.
Niamh Healy, author of the report and antenatal tutor with Cuidiú, told the Irish Times that the report shows an overall rise in the number of assisted births.
"Both induction and Caesarean rates have risen since our last guide in 2011. There is also still a significant range of difference between one unit and another around the country, some units having Caesarean rates 75 per cent higher than other units."
In the 2016 report Portiuncula Hospital was one of only three in the country that had over 40% of mothers giving birth by Caesarean section, along with Midlands Regional Hospital and South Tipperary General Hospital.
But back in the last report in 2011 report only one unit had a Caesarean rate higher than 40% at St. Luke's, Kilkenny.
However, Portiuncula has seen a significant drop in its ceasarean rate, with only 35% of birth requiring a caesarean section in 2017.
St. Luke's had the highest caesarean rate in the country in 2017, with 44.5% of first-time mothers. While Wexford General Hospital had the lowest overall number of caesarean births at 26.2%.
Healy says that other, rising health issues are influencing the rising numbers, "What's always said when the Caesarean section rates increase is that they are seeing older and more obese women, and these bring complications. But I still wouldn't have thought the rates would be where they are."
The Bumb2Babe index is compiled from information contained in monthly statements made by the 19 maternity hospitals and units.
Healy says that there is a wide disparity in how well different hospitals gather their patient data, "While all units eventually responded – the last hospital in May 2017 – there was a vast difference in the quality and quantity of the responses received.
"It highlights the differences in data recording and reporting abilities nationally. Hopefully, the roll-out of the new Maternal & Newborn Clinical Management System will standardise data recording in future years."
Midwifery led-care is also still not being properly used at hospitals, Healy noted, despite been recommended in the National Maternity Strategy.
"With the exception of the two midwifery-led units and two maternity hospitals, very few women have access to private toilet and shower/bath facilities during labour, a situation which requires them to use communal facilities,"
"No woman should have to leave a room during labour to use a public toilet block."