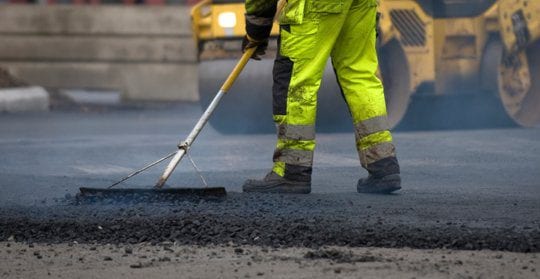 Over €42 million has been allocated for the maintenance and improvement of regional and local roads in Galway this year.
Under the 2023 investment programme, Galway County Council will receive €39,329,263 for road improvements, while the City Council has been allocated €3,176,540.
The largest allocation for any single project in Galway City or County is €1.1 million for two sections of the Athenry Relief Road.
Minister for Transport Eamon Ryan said that the department's main priority this year is protecting and renewing the existing road network.
"It makes more sense to protect and repair our roads quickly rather than letting them fall into more expensive disrepair.
"We are providing funding for a range of schemes from larger strategic road improvements to smaller scale road improvements and critical bridge rehabilitation works."
"An important part of this allocation is the climate change adaptation grant which was introduced for works on roads at risk due to the impact of climate change and severe weather events."
Nationwide the €626 million investment programme announced this week will allow approximately 3,100km of regional and local roads to be maintained and 2,550km to be strengthened.
It also includes €16 million for a total of 329 climate change adaptation projects around the country.
Minister of State Jack Chambers commented that the funding includes €11 million for road safety projects that target remedial measures to improve road safety for vulnerable road users and vehicular traffic.
"This also includes provision to continue on a signage programme which includes signage to support lower speed limits in housing areas, rural speed limit signage and a "safe passing" cycle sign."
The funding for Galway City and County Council broken down by category is as follows.
Galway County Council
| | |
| --- | --- |
| Restoration Improvement | €20,455,000 |
| Restoration Maintenance | €2,986,500 |
| Supplementary Restoration Maintenance | €2,346,500 |
| Discretionary Grant | €5,659,500 |
| Bridge Rehabilitation | €630,000 |
| Specific Imp. Grant | €1,000,000 |
| Strategic Regional & Local Roads | €1,100,000 |
| Safety Improvement Works | €418,400 |
| PSCI: Survey Support | €52,000 |
| Training Grant | €128,000 |
| Drainage Works | €1,397,500 |
| Former National Roads | €775,000 |
| Cycle Signs | €12,540 |
| Speed Limits (Housing Area Signage) | €33,290 |
| Speed Limits (Rural Speed Limit Signage) | €34,000 |
| Climate Change Adaptation & Resilience Works | €1,169,193 |
| Community Involvement Scheme | €1,131,840 |
| Total Allocation | €39,329,263 |
Galway City Council
| | |
| --- | --- |
| Restoration Improvement | €1,791,000 |
| Discretionary Grant | €947,000 |
| Bridge Rehabilitation | €185,000 |
| PSCI: Survey Support | €2,000 |
| Training Grant | €21,000 |
| Drainage Works | €122,500 |
| Speed Limits (Housing Area Signage) | €13,040 |
| Climate Change Adaptation & Resilience Works | €95,000 |
| Total Allocation | €3,176,540 |