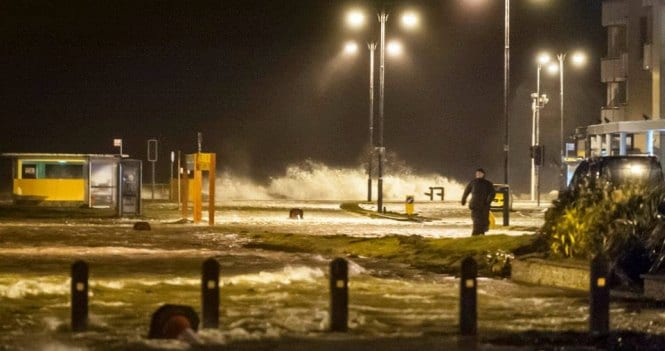 Galway City Council is ordering road and car park closures, and dispensing sandbags, to prepare for the arrival of Storm Barra tomorrow.
Galway will be under an Orange wind warning for Storm Barra from 6am Tuesday morning, with gusts of up to 130km/hr expected, stronger on the coasts.
A status yellow weather warning for rain will also be in effect from 2am to 6pm Tuesday, as Barra is also expected to bring heavy rainfall.
Combined with storm force winds and high tides, this is expected to pose a severe risk of damaging coastal flooding.
Galway City Council's Inter-Agency Co-Ordination Group met multiple times today, and is undertaking precautionary measures to protect people and property from Storm Barra as much as is possible.
Council staff have been carrying out drainage maintenance across the city ahead of the storm to reduce the risk of flooding from blocked drains and gullies.
A number of roads and beaches along the coast in the city will be closed either from tonight, or Tuesday morning, with the possibility of more to follow.
Sliverstrand Beach will be closed from 6pm on Monday evening. From midnight tonight Ballyloughane Beach and the Salthill Promenade will also be closed.
Rosshill Road will be closed from 5am on Tuesday morning, and road along the Claddagh, Docks and Spanish Arch may also be closed from tomorrow morning as needed.
Toft Car Park and Salthill Car Park are both being closed, and all vehicle owners must move their cars from there, and along the promenade.
Concerned home and business owners may also collect sandbags from the Salthill Tourist Kiosk, Claddagh Hall, the fire station on Fr Burke Road, Spanish Arch, and the Docks on St Nicholas Street.
The flood protection barrier has also been erected at the Spanish Arch to protect against any overtopping and storm surge.
The City Council has also said that it is working to ensure that emergency accommodation is provided for rough sleepers at locations including The Glen Oaks, Fairgreen & Osterley Lodge
"Business owners and homeowners are advised to check their own drains and secure any loose objects within their property in advance of the warning taking effect."
"Galway City Council advises remaining indoors during the period of the warning and, as always, to avoid coastal areas. Parks and other wooded areas should also be avoided, due to the danger of falling trees."
"If absolutely essential to travel, please exercise extreme caution out & about especially on coastal roads and exposed shores."
Council staff will also be on standby for the cleanup from Storm Barra as soon as it is deemed safe to do so. With the prospect of fallen trees on roads and other issues, this may cause traffic disruptions on Wednesday morning.
The worst of the weather from Storm Barra is expected in the south and south west of Ireland, where Cork, Kerry, and Clare are all under Status Red warnings for violent stormy winds.