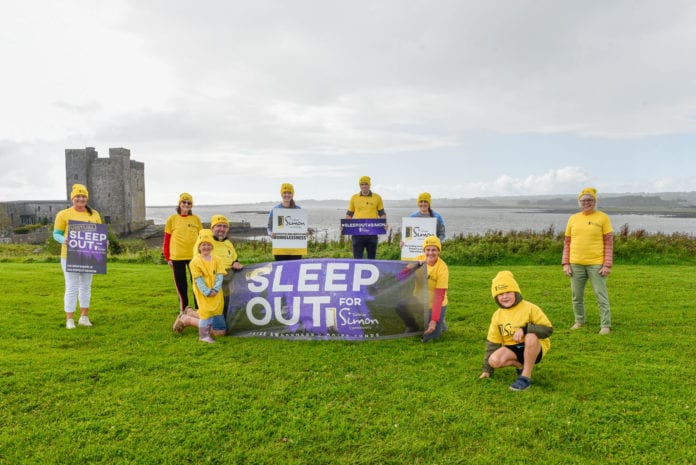 Galway Simon Community has welcomed Oranmore-Maree as a new Community Team for their annual Sleep Out for Simon event which will take place virtually on Friday 2 October.
This year, the people of Oranmore-Maree have come together as a community to participate in the first Virtual Sleep Out, where they will swap their beds for sleeping bags for one night in a bid to raise awareness and much needed funds for homelessness in Galway.
Individuals, families, work colleagues, teammates, and community groups can get involved by pitching a tent in their garden, bedding down on the living room floor, or even spending the night under the stars in the office car park.
Tom Broderick, Chairperson of Oranmore Community Development Association (OCDA) said that this year has been a particularly challenging time for many people in the community – and that some of them may be relying on services like Galway Simon.
"As a community we decided to rally together and organise sleep-outs across Oranmore and Maree.
"We really want to encourage others in our local community to become involved and take part with their families and friends, and to raise vital funds for those experiencing homelessness during this difficult time.
"As the Sleep Out event will be virtual due to COVID-19 restrictions, families and friends can take part in their own back gardens," Tom said.
Galway Simon have lined up an eventful evening including music, a virtual quiz, storytelling and mindfulness which will all be live streamed on the night.
A number of Community and Business Teams are taking part in this year's event.
100% of proceeds will go directly towards Galway Simon's Homelessness Prevention Services here in Galway, ensuring the charity can safeguard their essential services during the Covid-19 pandemic.
To register for Galway Simon's Virtual Sleep Out, visit www.galway.sleepoutforsimon.ie where you can sign up as an individual or a team.