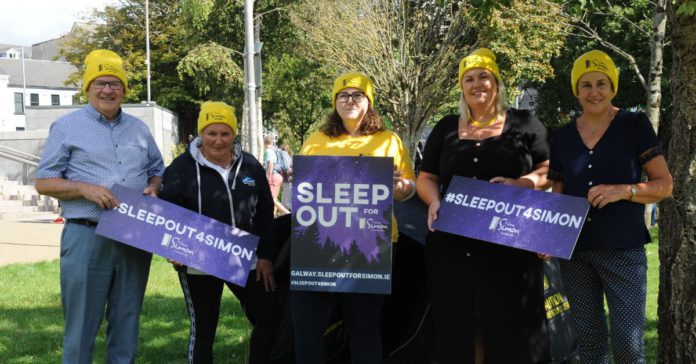 The Galway Simon Community will be hosting a hybrid version of its regular Sleep Out this month, with people taking part across Connacht and beyond.
Sleep Out For Simon, set to take place on Friday, September 30, will see people from Galway, Mayo, Roscommon and beyond, give up their bed for one night to raise awareness and vital funds for those facing homelessness in the West.
Galway Simon invites you to get your flasks of tea and hot chocolate at the ready and pack yourselves into your warmest sleeping bags, for a jam-packed night.
This year people have the choice to join one of Galway Simon's organised Community Sleep Outs taking place across Galway city and county or to organise their own Sleep Out in a safe place of their choosing.
This could be a tent in your back garden, a community group in Galway or Mayo, or something on the far side of the world in Vancouver.
Over the last two years the Sleep Outs took place virtually due to Covid-19 and were the most diverse to date.
People partook from across the globe, from Moycullen, Westport, Castlerea, to as far as Shanghai.
One participant from last year said it was, "a great experience with my family raising money for such a good cause while also getting a greater understanding of homelessness and the fact that it can happen to anyone."
This year's Sleep Out has set a target of raising €100,000 for Galway Simon's efforts to keep people off of the streets.
100% of proceeds will go directly towards Galway Simon's Homelessness Prevention Services including their community support, youth, women and family services, ensuring the charity can safeguard these essential community services and support those in need.
Karen Golden, CEO of Galway Simon Community, explained why they are relying on the community to come together and raise funds for those living with the threat of homelessness.
"The fear and trauma of having nowhere to sleep is a stark reality for some, the families and individuals who we support continue to be under extreme pressure."
"We are asking for the help of our community so that we can continue delivering the support needed to protect the most vulnerable in our society from the threat of homelessness".
To register for the Sleep Out for Simon today, visit here.