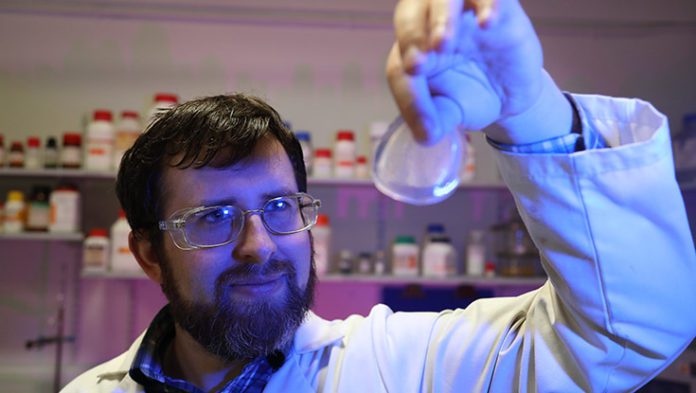 Researchers at NUI Galway have potentially found a novel approach to stopping medical devices from picking up infectious bacteria that pose a danger to patients.
The SUGARCOAT project is investigating how attaching sugar molecules to plastics could give medical devices a new layer of protection from infection.
A collaboration between NUI Galway and Queen's University Belfast, it aims to tackle the issue of hospital acquired infections associated with devices.
The team is creating fluorescent materials which glow at first, before darkening when they become compromised by bacteria.
The technology would be attached to plastics which coat medical devices, such as urinary catheters or endotracheal tubes, allowing clinicians to spot potential infection at an early opportunity and react faster.
Dr Joseph Byrne, leading the project in Galway said, "Prevention of bacterial infections is key to fighting the challenge of antimicrobial resistance".
"If this isn't possible, then early detection through innovative sensing materials could act as an alarm, allowing devices to be removed and replaced before infection becomes a more serious risk to patient health."
Medical device-associated infections account for up to half of healthcare-associated infections, and people who are immunocompromised or have cystic fibrosis are particularly at risk.
This requires longer stays in hospital, and more antibiotic usage to combat, leading to the growth of antibiotic resistant bacteria.
It is estimated that across EU/EEA countries, 33,000 deaths per year are a result of antibiotic resistant bugs.
This project hopes to minimise the impact of this challenge by producing innovative coatings, which will prevent or detect bacterial build-up on widely-used medical devices before they lead to infection in a patient.
Prof Byrne added "Hospital-acquired bacterial infections are a major issue across the entire island of Ireland, and I'm excited to forge a new and lasting relationship with counterparts in Belfast to deliver meaningful new tools in fighting this challenge."
The project is being supported with €193,000 from the Government's Shared Island initiative.