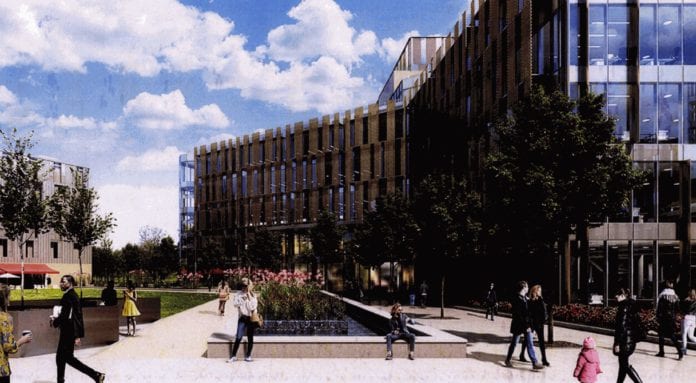 Plans have been submitted for a massive housing development in Galway city valued at €55 million as part of the Crown Square project in Mervue.
Crown Square Developments Ltd are seeking a ten year grant of planning permission for three blocks of housing with 288 apartments.
The eight storey Block G will include 104 units, there will be a further 136 units in the seven storey Block H, and the remaining 48 units will be in Block J which will be five storeys high.
These units will be broken down into 75 one-bed apartments, 185 two-bed apartments, and 28 three-bed apartments.
The housing element in these plans is supported by a commercial element including a restaurant, a café, a convenience store, and a pharmacy,  fitness and leisure centre, along with five other undetermined commercial units.
The plans also include a creche, something which is required in all residential development about a certain scale, and a medical centre.
This is Phase II of a mixed use development at the Crown Square site on the junction of Monivea Road and Joyce's Road which has gone unused for years.
The entire project, which also includes a hotel and five office blocks which could provide space for the employment of thousands of people.
That commercial/office side of the project was granted approval by the city council back in March.
This application for the housing element of the project was made directly to An Bord Pleanála under its fast track process for Strategic Housing Developments.
Other work contained in the application includes Public realm and landscaping works, including pedestrian and cyclist linkages.
Car parking will be provided via 288 underground parking spaces to serve the residents, as well as visitor parking.
In addition 733 secure bicycle parking spaces will be located in the upper basement level.
The application will be supported by an Environmental Impact Assessment Report and a Natura Impact Statement.
An Bord Pleanála is due to make a decision on this application by November 4 of this year.