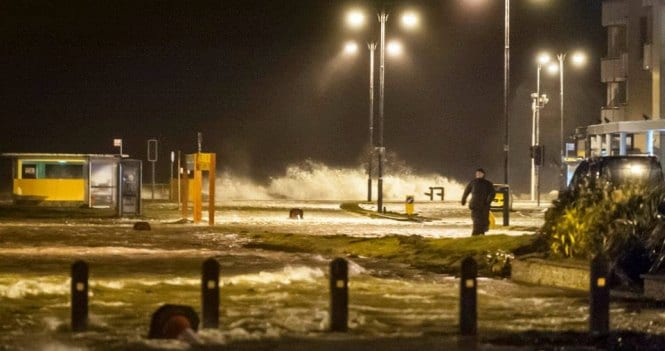 Heavy winds from Storm Elsa caused severe damage to Galway City overnight, with flooding, fallen trees, and traffic lights out.
A Status Orange weather warning was unexpectedly issued for Galway and Mayo by Met Eireann last night after a yellow warning had been in place for much of the day due to Storm Elsa.
It warned of storm force winds into the early hours of Thursday, with gusts topping 120km/hr as Storm Elsa brought severe weather conditions across Ireland.
Traffic lights at the Headford Road end of the Quincentenary Bridge are still out of commission this morning, causing a heavy build up of traffic in the area.
Areas Salthill and the Docks were severely flooded last night, with crews from the city council working to clear gullies in order to allow water to drain away.
Councillor Niall McNelis reported that up to ten properties had some level of flooding, while 40 to 50 cars were caught up. Toft Car Park in particular was reported to be particularly badly hit.
Crews from the city council and Galway Civil Defence were out in the early hours of the morning working to clear multiple fallen trees where it was safe to do so.
Winds brought down trees at the Letteragh Road near Westside Playing Fields, Taylor's Hill near the Ardilaun Hotel, the Ballymoneen road, and the Old Dublin road near Galway Crystal.
Outside of the city fallen trees were also reported on the N59 and in the Barna area.
The council, Civil Defence Units, and Galway Fire & Rescue have been working to clear all roads, but motorists are advised to drive with extreme caution this morning.