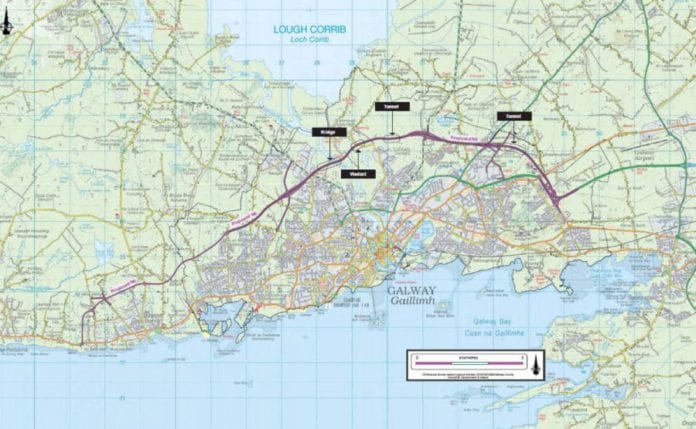 Both Boston Scientific and NUI Galway have dropped their objections to the proposed N6 Galway City Ring Road.
An oral hearing on the 18km ring road which will connect the M6 motorway at Coolough
An Bord Pleanála received 296 submissions concerning the Galway Ring Road, the vast majority of which had serious concerns about it.
Both NUI Galway and Boston Scientific stand to be materially affected by the road, and lodged objections with the planning authority.
However, as reported in the Irish Times, both entities have now withdrawn their objections.
Boston Scientific had objected to the development on the grounds that it would undermine their potential for future growth.
The medtech company, which employs almost 4,000 people in Galway, recently acquired the former APC site next to its Ballybrit campus.
The ring road route will bisect their land, and Boston Scientific warned that this could impact their plans for future growth.
The road's design has altered to incorporate a link road for Boston Scientific, the Times reports.
The route will also impact NUI Galway, with its sports grounds in Dangan to be affected by the road as it passes over the Corrib at that point.
However the hearing heard that alterations have been made to the plans to minimise any affect on the sports facilities.
On the first day of the oral hearing yesterday, a crowd of hundreds turned out to listen as Eileen McCarthy of ARUP Consulting Engineers laid out the case for the bypass, and the changes that have been made to the design.
Hundreds of properties will be affected by the route of the bypass, with 500 Compulsory Purchase Orders issued for it.
The project will also require the demolitions of 44 houses to make way for the road, attracting strong local opposition.
The hearing is set to continue for the next eight weeks at the G Hotel, where the concerns of many other will be heard.
Supporters of the project say that it is needed to tackle Galway City's crippling traffic problem.
While detractors argue that it will not take cars out of the city or off the road, and that the resources should instead by invested in better public transport networks.