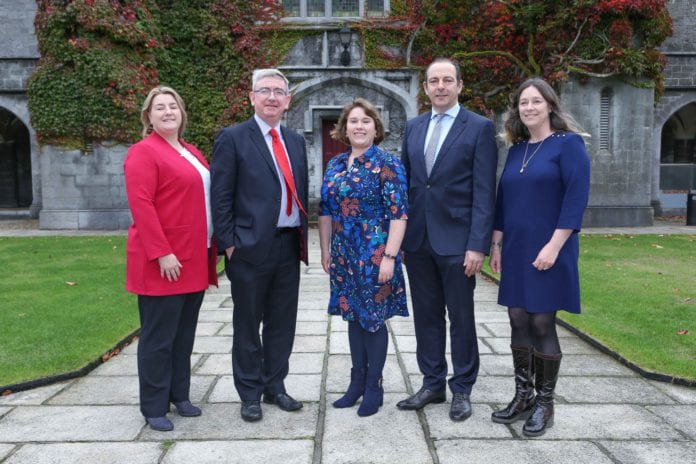 The NUI Galway Youth Academy, an outreach programme aimed at 9-12 year olds, has been given a gift of €250,000 over the next six years from Merit Medical.
Merit Medical is a leading multi-national medical device company with significant operations in Galway, employing close to 1,000 people.
The gift was announced at the recent Youth Academy graduation ceremony which took place on campus.
The Youth Academy programme gives children a taste of university life and the opportunity to study a fun but high level course in a college subject area.
The initiative was established by NUI Galway's Mary Dempsey, Vice Dean, College of Engineering and Informatics, Dr Caroline Heary, School of Psychology, and Dr Lorraine McIlrath, Community Knowledge Initiative.
Since 2012, enrolments have grown from 64 participants in its first year to nearly 700 participants.
Sixty-six percent of the courses are offered in the science, technology, engineering and mathematics (STEM) subject areas.
Mary Dempsey, Senior Lecturer and co-founder of the Youth Academy, said: "A guiding principle of NUI Galway's Youth Academy programme is to offer 25% of places on a full scholarship basis and provide children and inter-generational families with access to the university campus, its resources and knowledge, and encourage a sense of belonging.
"Although the programme has supported hundreds of scholarships since 2012, the very generous gift from Merit Medical will create early educational intervention scaffolds and higher educational pathways for many more deserving children over the next six years.
"I am very grateful to Mark Butler and his team for supporting NUI Galway's Youth Academy programme in the provision of equality of opportunity for all children.
"This unique partnership will enable the NUI Galway Youth Academy programme to continue to develop, impact positively on children and combat disadvantage."
Mark Butler, Executive Vice President, European Operations, Research and Development, and Strategy, Merit Medical, said: "As a worldwide leader in the development, manufacture and distribution of medical devices, Merit Medical are proud to partner with NUI Galway's Youth Academy programme.
"At Merit Medical we believe in children, their fantastic view of the world, their talent, their creativity and passion for innovation. It is important to capture this creativity from a young age, to ignite imagination and power curiosity. Through the academy the interest and enthusiasm for STEM subjects and related areas are increased, building the next generation of Scientists, Engineers and Mathematicians.
"The Merit Story started with a single idea, build a stronger, safer disposable syringe, from that single idea the next great healthcare company was born. Today Merit holds over 800 patents and pending applications representing thousands of inventions.
"So who knows what the future will bring for children graduating from this Youth Academy programme. We are hopeful it will have given participants a broader perspective on all the fantastic opportunities awaiting them in the world of STEM. We encourage them to work harder in school and to realise that anything is possible and you're never too young to think Big!"