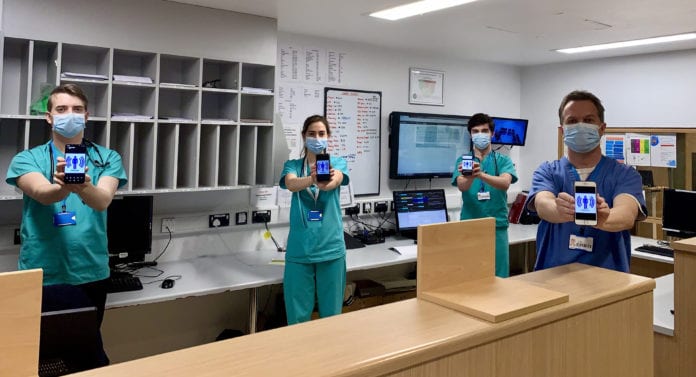 Social distancing is set to become easier with a new smartphone app which  has been created by researchers at NUI Galway.
SPACER – The Social Distancing App vibrates when someone else with the app or with Bluetooth enabled on their phone is less than two metres away for over one minute.
If the SPACER app vibrates, then the person can either move further away or suspend the alarm for ten minutes if it's not possible to move straight away.
It was created by NUI Galway's Health Innovation via Engineering (HIVE) Lab, led by Professor Derek O'Keeffe, and the system is currently being evaluated at Galway University Hospital.
After this evaluation, people will be able to download for phase one of the easing of lockdown measures on May 18.
Professor of Medical Device Technology at NUI Galway and Consultant Physician University Hospital Galway, Professor Derek O'Keeffe said: "Implementing the two metre social distancing can be difficult to manage in busy work environments such as hospitals, and it is vital that frontline staff stay adequately distanced to ensure that they do not spread the virus between themselves.
"Unfortunately globally to date healthcare workers are the occupation that have made up the largest percentage of people affected by the COVID-19 pandemic due to their clinical work and their working environment.
"Therefore we urgently need an active and dynamic solution to help this vulnerable cohort and the general public to maintain social distance."
"The approach to managing COVID-19 with digital health solutions can be thought of like fire safety, our SPACER App is like fire prevention – trying to prevent people from staying in contact too close and for too long," he said.
Dr Ramona McLoughlin, Clinical Director – Medicine Saolta Group and Gastroenterologist at Galway University Hospitals, added: "Maintaining social distancing is particularly challenging in health care settings, particularly a busy acute hospital like University Hospital Galway.
"The SPACER App will help staff be more aware of their proximity to their colleagues and help them, where possible, maintain the 2 mt distance and help protect themselves, their colleagues and our patients."
The SPACER App is currently being used by doctors and nurses working in the Acute Medical Unit (AMU) of Galway University Hospital.
Dr Colin Davenport, Acute Medical Unit Consultant at University Hospital Galway said: "Following distancing guidelines as much as possible is a vital part of controlling this pandemic.
"By making health care professionals aware of when they are getting too close to others around them the SPACER app has the potential to significantly reduce any spread of coronavirus amongst staff and patients, and ultimately to prevent more cases of COVID-19 emerging."