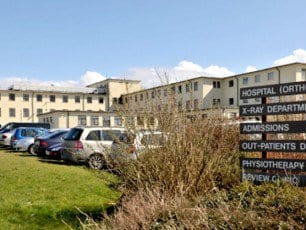 Galway city council has expressed multiple concerns about plans for temporary surgery theatres to tackle some of the backlog at Merlin Park Hospital.
The HSE submitted plans for a 613sq metre modular surgical theatre building at Merlin Park Hospital in January.
It is meant to help tackle the massive backlog of surgeries that have built up at Merlin Park since two theatres were forced to close in September 2017 due to leaky roofs.
But those plans have slowed down as the city council has requested further information from the HSE, expressing concern about multiple aspects of the application.
One big issue raised was the potential ecological impact of the project, which the council says is not properly accounted for in the plans.
It's noted that the project is situated close to Merlin Park Woods, a protected habitat.
A cover letter included with the planning application says there would be negligible impact on flora and fauna from the development.
However, the council said "this statement does not appear to have been quantified by any kind of ecological assessment."
"At a minimum, an ecological assessment screening should be carried out which addresses the potential impact of the proposed development on ecology, with particular regard to normal headline issues such as local biodiversity."
The council also asked the HSE for more information about the intended lifespan of the modular building in the context of medium and long term plans for Merlin Park Hospital.
In general "There is a presumption against the use of temporary buildings for the purpose of providing healthcare facilities," the council said, as they are "unsuitable to meet long term needs of these uses".
Another issue raised was some confusion about future plans for one of the main surgery theatres in the hospital.
While the cover letter states that the prefab building would be a replacement to the main surgical theatre, which would be decommissioned, other parts of the application seem to contradict that according to the council.
"The cover letter also states that it is hoped the existing theatre could be used at some stage in the future to help decongest the University Hospital," the council said.
The HSE was asked to clarify plans for the existing theatre to the council.
The HSE has six months to respond to the council's request, or else the planing application will be considered withdrawn.
Waiting lists for elective surgeries at Merlin Park Hospital have reached staggering levels with the theatre closures.
A letter from consultant surgeons at the hospital to Health Minister Simon Harris said that as many as 1,500 people are waiting for surgery.