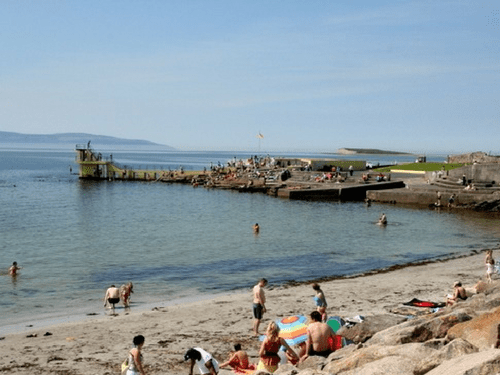 The Galway City Council Love your Beach Week is back for the third year, with expert environmental talks, beach clean-ups, sounds of the sea percussion workshops, and a children's sandcastle building competition!
Events take place from the 7th to the 11th June, on Ballyloughane, Grattan, Salthill and Silverstrand beaches.
All events are free of charge and open to young and old- www.galwaycity/love-your-beach-week.
Speaking about Love your Beach Week 2023, Dara Dever, Clean Coasts Officer said "Clean Coasts are delighted to partner with Galway City Council on Love Your Beach Week again this year."
"The more people we can get to engage with our beautiful coast in a positive way, the more likely they will be maintained and improved into the future. We would love to see new faces, young and old come along to these free events."
Love your Beach Week officially starts on Wednesday, June 7 at 5.30pm on Ballyloughane Beach with an official opening by Mayor of Galway City, Councillor Clodagh Higgins.
This will be followed by a beach clean-up by Beach Buds Clean Coasts group, with the public invited to get involved.
While cleaning the beach, you can also find some shells or stones to use for percussion at the African drumming circle straight after, with Community Spirit Drumming "Drum sounds and the Sea".
World Oceans Day on Thursday, June 8 will be celebrated on Grattan Beach with a beach clean at 5:00pm, led by Galway Volunteer Centre.
This will be followed at 6:00pm by an environmental workshop, "How beaches help us tackle climate change", with Dr Kevin Lynch, Geography Department, University of Galway.
The events then move onto Salthill Beach on Friday, June 9 with a 4:30pm rock pooling experience and Litter Clean up with Galway Atlantaquaria.
Another fun drumming Workshop will then follow with Community Spirit Drumming, "Drum sounds and the Sea".
The week will finish at Silverstand Beach on Saturday, June 10 with a 4:00pm Litter Clean up with Bailte Slachtmara Bhearna.
At 5:00pm there will be a fascinating workshop on "Why coastlines are valuable and how do we use science to understand them?", by Dr Eugene Farrell,Geography Department, University of Galway.
This will be followed at 6:00pm by a children's sandcastle building competition, with prizes for best sandcastle.
Speaking about the week's activities, Tiarnan McCusker, Environmental Awareness Officer with Galway City Council said, "All of these events are free and open to the public so I hope as many Galwegians and Tourists alike can come and get involved in in Love Your Beach Week 2023."
"Every week is a good week to appreciate the great beaches we have in Galway, particularly our two Blue Flag Beaches in Salthill and Silverstrand – but the week is also a reminder that we need to take responsibility and protect these amazing facilities and the amazing wildlife that can be found on them".