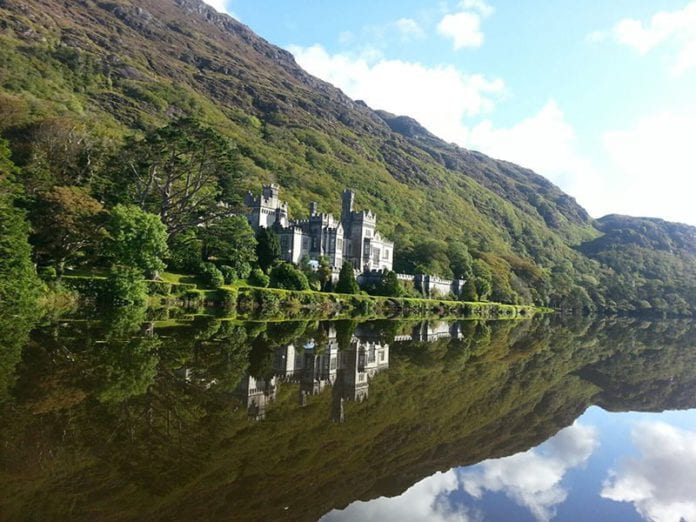 The beautiful Kylemore Abbey in Connemara has been included in a list of the top ten tourist attractions in Ireland.
The list from Fáilte Ireland ranks tourist attractions by popularity based on the number of visitors they receive each year, and Kylemore Abbey & Garden place 7th with 561,657 people passing through it last year.
Fáilte Ireland publishes an annual Visitor Attractions Survey to give attractions insight into how they are performing.
It complements their research on 'What makes a Great Visitor Attraction', which allows attractions to look to each other's successes in order to find ways to improve their own visitor experience.
Once again the Guinness Storehouse topped the list with over 1.7 million visitors last year, followed closely by the Cliffs of Moher, visited by 1.58 million people.
A stunning Victorian country home on the shore of Lough Pollacappul, Kylemore Abbey is home to the Benedictine Order of nuns who fled to Ireland from Ypres in Belgium during WWI.
This summer the Abbey opened a new €1.7 million visitor experience ahead of the centenary celebration of the order's arrival in Connemara.
It includes four authentically refurbished rooms for visitors to discover, along with a multimedia presentation taking visitors through the politics, tragedy, romance, and spirituality of the estate's history.
Also published in the survey was a list of the top 10 free to enter tourist attractions, of which Kilkenny Castle Parklands was the most popular, drawing 799,000 visitors in 2018.
Speaking about the results of the survey, Fáilte Ireland's Director of Product Development Orla Carroll said that while 2018 was a positive year for most attractions, there are many challenges facing the tourism industry.
"As the National Tourism Development Authority, Fáilte Ireland's role is to support the development of a 'world-class' tourism sector."
"Our work with attractions in helping them grow their visitor numbers through training and funding is a significant part of what we do across the country."
"Over the course of 2018 alone, Fáilte Ireland approved grant funding of more than €31million for 46 projects," Orla added.
She added that in May €150 million in funding was announced through their new Platforms for Growth initiative, with grants worth upwards of €2.5 million available to large scale tourist attractions.