Students at NUI Galway have expressed their outrage at Cúirt na Coiribe's plan to increase rent by €1,000.
The NUI Galway Students Union is leading the the protest against the student accommodation's 18% rent hike, publishing an open letter condemning the move.
The letter, co-signed by Students Union President Lorcán Ó Maoileannaigh, says that students' attention will not be on their next exam, but how they can find an extra €1,000 to ensure they can return to Galway.
An online petition to reverse the proposed rent increase has received 4,000 signatures so far.
Cúirt na Coiribe have now removed their Facebook review button as Students expressed their anger and frustration through it with 1 stars. They know what they're doing is wrong and we will not be silenced! #CúirtShakedown

— Lorcán Ó Maoileannaigh (@LorcanLeFada) May 6, 2018
We're creating a situation where soon only the wealthy will be able to afford to get a degree simply bc of the costs of housing/student accommodation. It's about time something was done. #CúirtShakedown

— ~ Shannon ~ (@shannonmaile_) May 6, 2018
Open Letter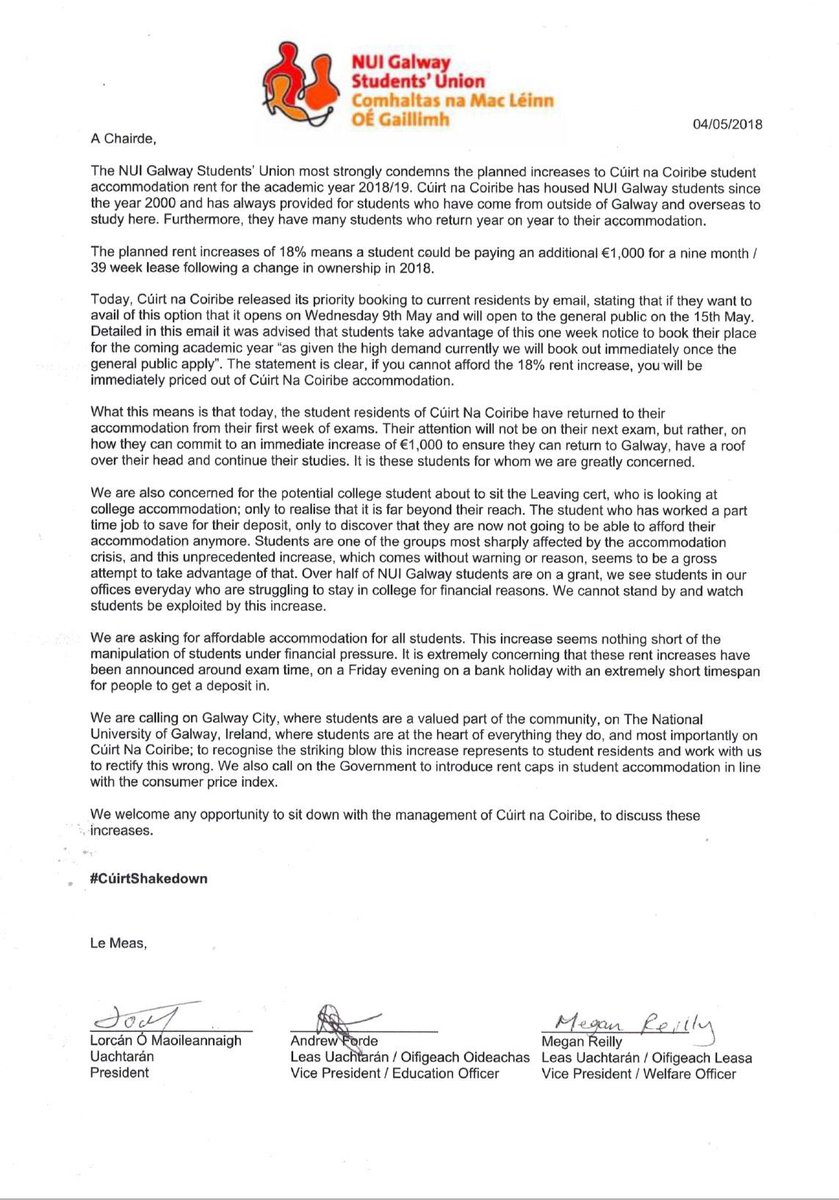 Massive praise for @NUIGSU for standing up against the extortionate rates that Cúirt na Coiribe want to charge student's for accommodation. It's a disgraceful act by the company. Snakey communication along with disregard for their customers. #CúirtShakedown ✊

— Diarmuid Curran (@currankedd69) May 7, 2018