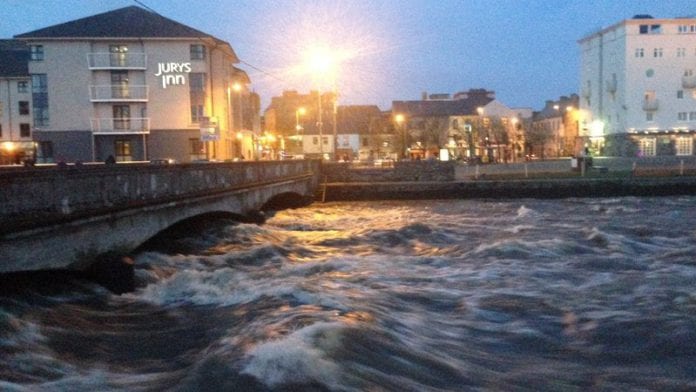 Preparations are being made by Galway City Council to deal with any flooding or other issues caused by Storm Dennis this weekend.
Two status yellow weather warnings for wind and rain have been issued by Met Eireann for tomorrow as Storm Dennis approaches.
Heavy, thundery rain is expected to plague Galway this weekend, with some flooding expected due to its severity.
Southerly winds will also reach mean speeds of 50-65km/hr on Saturday, with gusts reaching up to 120km/hr.
The city council's Severe Weather Assessment Team has convened in preparation of the arrival of Storm Dennis
"The combination of wind and intense rainfall can cause dangerous driving conditions," a statement from the city council said.
"Galway City Council will be on standby with crews on the ground for any potential flooding or wind damage.
"The Severe Weather Assessment Team will continue to monitor the situation and will put measures in place as necessary over the weekend and throughout Monday."
Though the two warnings issued so far only cover Saturday, Met Eireann has said that Storm Dennis will bring damaging weather conditions throughout the weekend and into Monday.
The worst of the stormy weather is currently forecast for late on Sunday, making it likely that more weather warnings will be issued in the next day or so.
The wind warning will come into force early tomorrow, at 3am, and remain in place until 8pm, while the rainfall warning will take effect at 6am and last until 9pm Saturday.
Dennis is the second named storm to hit Galway this week, and the fourth of the season so far before we're even out of February.