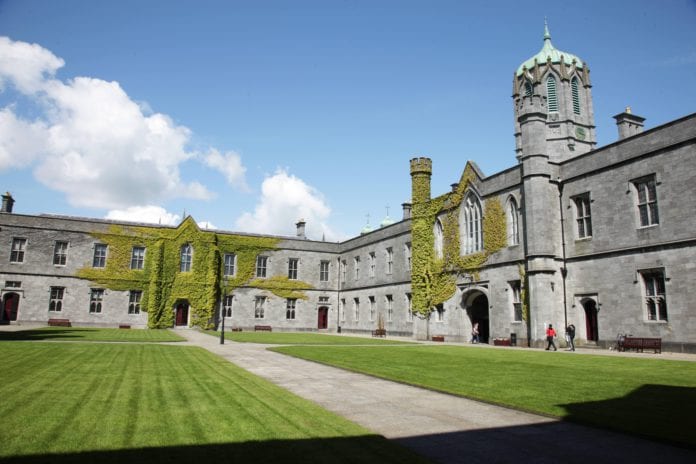 NUI Galway has decided to move all teaching online for the remainder of the semester with only essential activity taking place on campus.
The decision was communicated in an email sent to students and staff earlier today, as the country prepares to enter Level 3 from midnight tonight.
Professor Ciarán Ó hÓgartaigh, NUI Galway President, said in a video to students today that only research lab based teaching and practical tuition will continue and that all other learning will take place online.
"The library will remain open, both with restrictions on access in order to avoid congregating, given that we will be at least at Level 3 for the next three weeks," he said.
Speaking about Covid-19, Professor Ciarán Ó hÓgartaigh said that the virus knows 'no borders of grief'.
"We should take care of each other, be kind to each other, in that context and follow public health advice at all times. There is no hierarchy or monopoly of inconvenience, or of hurt.
"This is a virus which is affecting everybody and which has particularly grievous consequences for many in society.
"We know many old people who have leave their homes, or visit their loved ones. We know many families who are anxious for their children and for those around them," he said.
In a statement this afternoon, NUI Galway said: "Following the Government's announcement to move to  Level 3 restrictions in the National Framework for Living with COVID-19 effective for three weeks from midnight tonight (Tuesday, 6 October), where further, higher and adult education are asked to escalate all appropriate protective measures and limit congregation as far as possible, NUI Galway will conduct all teaching and learning courses online only until the end of this semester, with the exception of lab-based and practical tuition, which will remain on campus.
"Only essential on-site activities will continue on campus. These essential on-site activities include:
All research activities, under the restrictions and guidelines which have operated since their re-opening during the summer
Lab-based and practical tuition under the restrictions and guidelines in place in that regard since the beginning of semester
Library access on a planned / regulated entry basis, avoiding congregation risk.
"Considering that current national restrictions (at Level 3 at least) will be now in place until (at least) week five in the semester and sensing the need for as much certainty as possible in this regard, for the remainder of this semester, all other teaching and learning will remain online.
"Students and staff are advised to prioritise COVID-19 testing over any study or work obligations. If you are advised to be tested by your doctor or by a contact tracer, please do so as quickly as possible. Students will be excused from missing lectures to attend to testing.
"During these unprecedented and challenging times where the pandemic is causing worry, stress and anxiety among our student and staff community, the University will continue to provide supports through our Student Services, Counselling, Chaplaincy, Pastoral Care, Student Wellbeing and Students' Union teams, to ensure the continued safety and wellbeing of our community and to help students who encounter difficulties throughout the academic year.
"Our campus accommodation will remain open. However, we understand that students who are not attending lab-based and practical tuition on campus may wish to leave Galway to return home and continue their online studies remotely. The University will support students with this decision and will refund the cost of campus accommodation, should they choose to leave.
"In making decisions about your movements, we advise all students and staff to observe the public health advice as outlined in the National Framework for Living with COVID-19.
"The University would like to thank all of the students and staff who have embraced the safe return and new way of teaching and learning this academic semester. It speaks to our resilience as a community, our ingenuity and the respect we share for the important role our university plays in the lives of so many people.
"This virus knows no borders of grief and we should be kind to each other, take care of each other and follow public health advice at all times.
"At this critical stage in the fight against COVID-19 in Galway, we ask every member of our University to take personal action and responsibility to adhere to public health advice and Level 3 restrictions in order to stop the spread of this virus in our community."