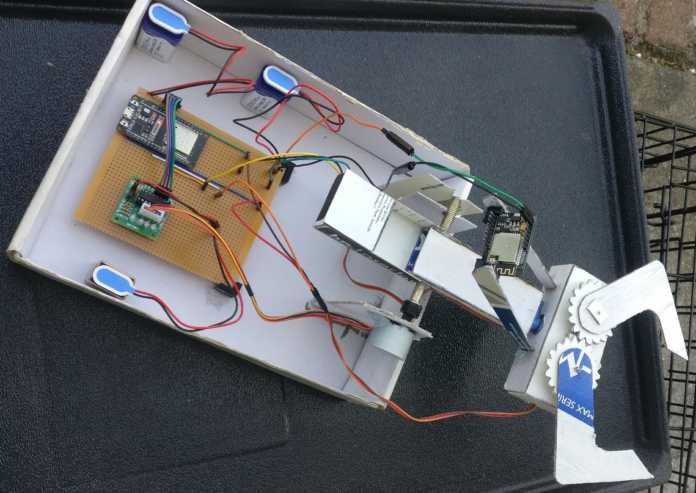 A GMIT student's remote controlled robot has been shortlisted for the prestigious national MIDAS Electronics competition for his remote control robot.
Ruairi Doherty from Ballinasloe is one of the three finalists for the 2020 MIDAS competition, which will be taking place virtually next month.
Ruairi completed his Bachelors of Engineering in Software & Electronic Engineering with Honours this year, and is now employed by Microchip Technology Inc.
His Remote-Robot is a wireless, hand-gesture controlled robot arm, that is designed to be operated with precision using a glove, in areas where human contact should be avoided.
"Its initial application was for situations where precision is required, in environments unsuitable for a human to operate in such as bomb disposal, radioactive environments or natural disaster relief," Ruairi says of his robot.
"However, with the emergence of COVID-19 this year, new applications for the project became apparent; it could be used as an aid for people who are elderly, vulnerable, or have mobility issues."
"For example, if people call to the door to drop off some items such as shopping or a delivery, the Remote-Robot could be used to collect the items whilst avoiding contact."
"It could also provide a mechanism for security, as the robot could stream a live video of a person's premises."
"It can help with simple tasks that may be harder for people who are sick or immobile, such as retrieving medicine from a bedside locker, turning a light on/off, or opening/closing a door."
Ruairi is one three finalists for the 2020 MIDAS competition, and the field is dominated by Galway overall, with another spot going to Oisín Anderson of NUIG.
The third finalist is Cornelia Schmitt, a student of NUI Maynooth.
MIDAS Ireland is an industry led cluster consisting of industry, educational, research and government agencies, working together to assist in the development of the electronics based systems sector in Ireland.
The annual MIDAS competition, open to all third level students studying electrical, electronic or microelectronic engineering, is meant to foster that spirit.
Ruairi thanked his supervisor Paul Lennon, who encouraged him to enter the MIDAS competition, and supported him through his project, as well as the entire Department at GMIT.
Paul Lennon said, "The project integrates many technologies, and it allows students to research areas of their own personal interest. Add in some hard work and that is why Ruairi has been successful."