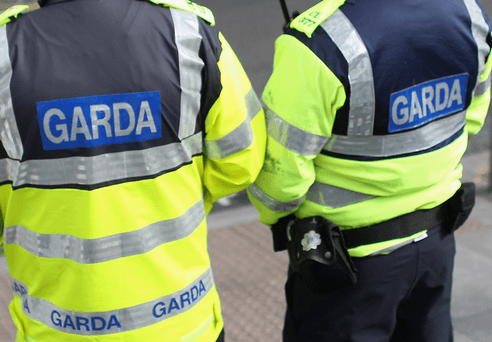 A man who made death threats against against a member of An Garda Síochána, assaulting multiple officers during his arrest, received a 16 month sentence at Galway District Court.
Martin Mongan (27), of 40 St. Finbar's Terrace, Bohermore was charged with two counts of assaulting a garda officer, one count of threatening to kill one of the arresting officers, and one count of obstruction.
Garda Paul McNulty told the court that on March 13, he and several other officers went to Mongan's address to arrest him on warrants issued by the Circuit Court.
When Mongan saw the gardaí coming for him he fled through the back garden, hopping over several back walls, with Garda Marvin Lee in pursuit.
Garda Lee cornered Mongan when he jumped through a wooden trellis fence into the back garden of no. 21 St. Anthony's Terrace.
When Mongan saw that he couldn't get away he stripped off his shirt and began shouting death threats at Garda Lee,
He yelled, "I'm going to f*****g kill you. I'll take your f*****g head off," the court was told.
He threw two hard punches, but Garda Lee was able to avoid them and wrestle Mongan to the ground.
The court heard that despite being held on the ground Mongan kept up the fight until the moment he was put into the back of a police van.
While he was down Mongan tried to bite Garda Lee on the thigh, and reached out for something on the ground to hit him with.
At one point Garda Lee had to pepper spray Mongan in the face, but it had little effect on the enraged and highly intoxicated man.
The rest of the officers quickly arrived on the scene and assisted in restraining Mongan.
Garda McNulty held his head still, as Mongan was attempting to headbutt and spit at anyone he could reach.
Because of how violent he was, Garda McNulty said, they were forced to restrain him for ten minutes until a van arrived to take him away.
Mongan was taken from the estate to Mill st. garda station and charged.
He has 42 previous convictions. Among those, nine are for assault, twice he was caught in possession of a knife, and five times he was convicted of burglary.
Judge Mary Fahy said that Mongan is old enough to know that when several gardaí show up at the front door it's a serious matter, and he should have co-operated.
"To have struck them would have been bad enough, but to threaten to kill them," she remarked.
Mr Gilmartin acknowledged that this was, "Unacceptable behaviour" from his client, but argued that he reacted that way because he was drunk and on drugs at the time.
Garda McNulty agreed that Mongan did seem very intoxicated in his behaviour.
Mongan pleaded guilty to all charges before the court, he did not speak in his own defence during proceedings.
There was no application for bail made.
For threatening to kill Garda Lee Judge Fahy gave Mongan an 11 month prison sentence, with one month concurrent for the assaulting him.
Another one month consecutive sentence was imposed for assaulting Garda Brendan Ryan, another officer involved in the arrest.
And finally a four month consecutive prison sentence was imposed obstructing officers in the executing of their duty
In total Mongan was sentenced to 16 months in prison for his extended brawl with the gardaí who came to arrest him on completely different charges.