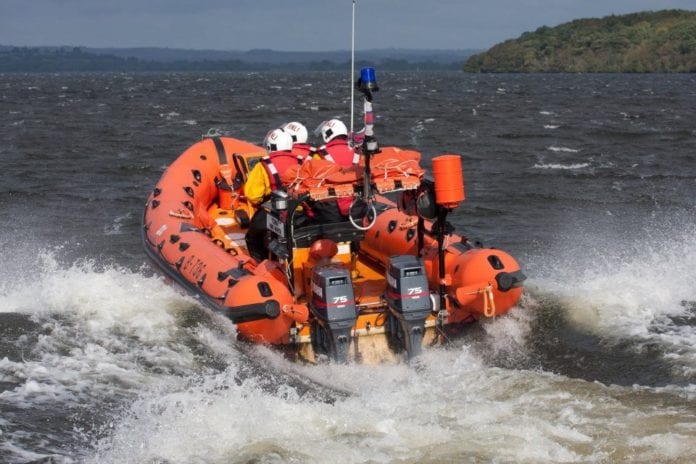 For the second time in a week, an RNLI lifeboat was called out to help a cruiser that had run aground at Silver Islands, by the Galway shore of Lough Derg.
On Sunday afternoon, just after 1pm, the Lough Derg lifeboat was called out by Valentia Coast Guard to assist with a 32ft cruiser which had run aground with two people aboard.
At 1.20pm the lifeboat launched with helm Eleanor Hooker and crew Steve Smyth, Doireann Kennedy and Chris Parker on board. Visibility was good, and the wind was southwesterly Force 4, gusting Force 5.
As the lifeboat approached Cloondavaun Bay, the volunteer crew could see three vessels on standby in safe water monitoring the casualty vessel.
The lifeboat boat rounded the red navigation mark 'Juliet' and, as the water level on the lake is currently lower than usual, navigated a slow, safe route to the casualty vessel.
Both of the people aboard the cruiser were unharmed and wearing their lifejackets when the lifeboat approached.
A member of the RNLI crew boarded the vessel to ensure that it was not holed, before a tow was set up to take it off the rocks and back into safe water.
Back in the water, the drives and rudder were checked and found to be in good working order, and both vessels made their way to Cloondavaun Bay Harbour.
This is the second time in a week that has a cruiser has run aground by Silver Islands.
The lifeboat had been called out on the night of Monday, September 7 for a similar incident, which proved trickier as it involved approaching, inspecting, and towing the boat off the rocks in the dark.
Also on Sunday, the Lough Derg lifeboat was called out to another incident where a motorboat was taking on water and in danger of sinking with four people aboard near Killaloe.
Fortunately, they were safely brought back to Killaloe Harbour by the Killaloe Coast Guard, who had arrived on the scene first.
image creidt: RNLI