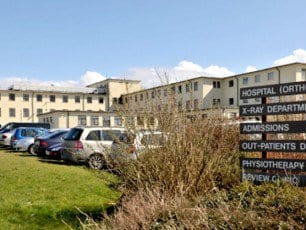 The backlog of patients waiting for orthopaedic surgery at Merlin Park Hospital is piling up with 1,500 people awaiting complex surgery.
The ongoing closure of orthopaedic surgery theatres at Merlin Park has left huge number of people uncertain when they'll get in for joint replacements, spinal surgery, and foot, ankle or shoulder surgery.
That's from a letter sent to Health Minister Simon Harris from a consultant surgeon at the hospital and copied to local TDs which lays out an alarming state of affairs.
In September 2017 two othopaedic operating theatres were forced to closed because of leaks in the roof.
Since then Galway West TD Catherine Connolly says she has "lost count of the number of times I have raised this issue in the Dáil."
The Saolta Hospital Group confirmed that one theatre had reopened on March 21 last year, and that further services would be address through modular theatres.
These were originally supposed to be in place last October to start taking patients, but have been hit with constant delays.
According to Catherine Connolly, she was told last October 26 that contract documents had only been exchanged to begin work.
"However no explanation was given as to why the theatre was not up and I am now informed that it would be mid-2019 before the new theatre building would open."
Plans for the new modular theatre building have only been lodged with the city council by the HSE this month, to the extreme displeasure of the Regional Health Forum which branded the delays "unacceptable".
As a result of the closures Saolta has confirmed that less than a third of elective procedures have taken place at Merlin Park Hospital.
When completed the modular building will have two theatre suites that will be able to accommodate 20 sessions a week.
Saolta have said it's hoped this will be up and running in the first half of 2019, but worries persist after nearly 18 months of issues.
"It is completely unacceptable that no progress appears to have been made in the provision of modular theatres almost a year and a half after the initial closure," Deputy Connolly said.
"I welcome the fact that the surgeons have spoken out on behalf of their suffering patients."