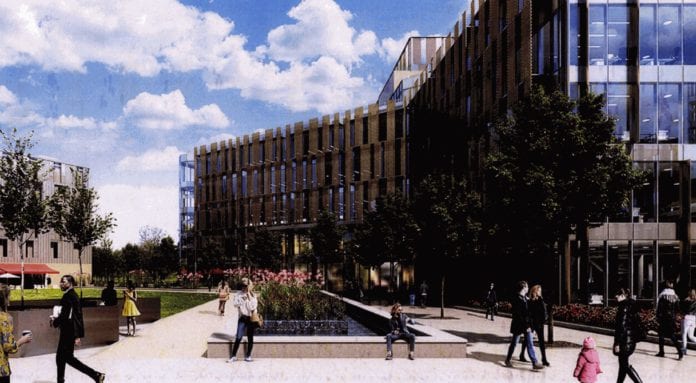 Galway City Council has granted planning permission for the enlargement of a planned hotel in Mervue as part of the Crown Square development.
Wolfe Tone House Crown Square Developments sought permission to amend plans for a five storey hotel which was approved as part of the Crown Square project in March of 2019.
While the overall footprint of the hotel will not be changed under this fresh application, an additional 1,583sqm of floor space would be added through the addition of a 6th floor.
This will include a lounge, kitchen area, ancillary facilities and two outdoor seating areas on the south-eastern and western elevations.
Internal alterations have also been made to the bedroom sizes on all other floors to accommodate another bedroom on each floor.
Under the revised plans the hotel will have a total of 180 bedrooms, an increase of five from the original plans.
Galway Cycling Campaign submitted concerns about the provision of sufficient bicycle parking spaces for the area, as well as the provision of pedestrian and cycling infrastructure along the Monivea Road, and the junction of McDonagh Avenue and Clarke Avenue.
Galway City Council granted planning permission for these changed with a total of four conditions attached.
The developer must include a bottle and clothes bank collection area, which will include ducting and other necessary work for the future installation of cctv by the city council.
Before work begins, the developer must also alter the plans to reduce the exit road onto Connolly Avenue from two lanes down to one.
The second lane will remain in place, but shall be for emergency use only.
The other commercial elements of the Crown Square project in Mervue which were approved at the same time as this hotel include five office blocks with the capacity for over 3,100 staff.
An Bord Pleanála approved the residential element of the project, 288 build-to-let apartments, last November.