Tucked away in the heart of Galway's Latin Quarter, the Residence Hotel offers stylish, comfort focused accommodation with the life of the city just outside the front door.
Once a Carmelite Convent built in the 16th century, the boutique style Residence Hotel recalls its past with handsome wooden interiors out front and high ceilings patterned with a starry night.
While twenty individually designed rooms are equipped to the modern standards a tourist would expect.
Free high-speed wifi, 42-inch Samsung Smart TVs with easy access to your Netflix, and USB wall sockets for charging devices are some of the amenities available.
The small number of rooms relative to other hotels lets staff at the Residence Hotel make sure each guest is well looked after.
The modern amenities are matched by a stylish decor that calls to mind modern art or a high end club more than it does a holy order.
Bedrooms are decorated with beautiful paintings and photographic art inspired by pop-culture and calling to mind iconic moments in film and music.
Guests can also make use of the room's Nespresso machine, or go for a grander touch of class with the in-room champagne service, from an exclusive partnership with Luc-Belaire Champagne.
Sitting right on Quay Street, you only have to open your window to soak in the sounds of the city, like Galway's famed community of buskers bringing music to the streets.
Less than a minute's walk in any direction you can find yourself at any number of Galway's cultural and artistic hotspots.
The Palas arthouse cinema, the Spanish Arch, the Mick Lally theatre, Galway city museum, or the pubs and clubs that bring evenings in Galway to life.
But don't worry that the city's night-life will keep you up, a double layer of windows does the trick of blocking out the noise for sleepers who like things quiet.
1520 Bar
Guests at the Residence Hotel don't have to look far for an inviting place to sit and enjoy a meal and a drink.
Attached to the hotel is the 1520 bar; step from an ultra modern setting into this pub which has a somewhat more old-fashioned look, but holds on to that energetic vibe.
Your eye will certainly never get bored as every surface is covered with an array of posters and oddities that could be the life's collection of a world explorer.
Enjoy a cold pint and some gourmet pub food with your friends at the spacious tables out front, served from noon to 8pm every day.
There's classics like Prime Sirloin Steak, and the 1520 burger; good Irish home food like lamb stew, or bangers and mash.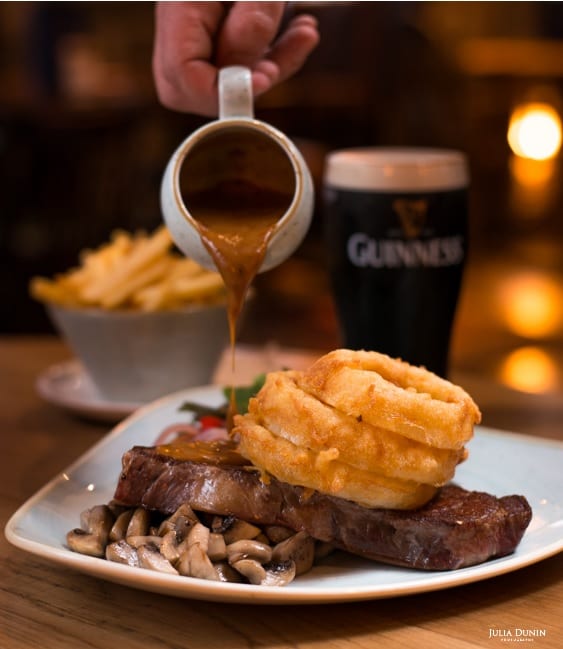 And what's the point of eating on the Atlantic coast unless you're going to try out the freshly caught mussels, clam & prawn linguini, or the creamy Galway Bay seafood chowder.
In the evenings the Latin Quarter's spark finds its way inside these doors with a live DJ, and lots of room for dancing when Galway's talented local musicians take to the bandstand.
If you prefer a few quiet drinks with your mates away from the bustle out front, the 'Penny Bar' at the back has snug little spots with comfy chairs that are great to relax and just enjoy the evening.
The Residence Hotel is a great option for tourists and locals who want to enjoy a bit of luxury, with all of Galway offerings of music, culture, and night life right at their feet.
Sponsored by the Connacht Hospitality Group