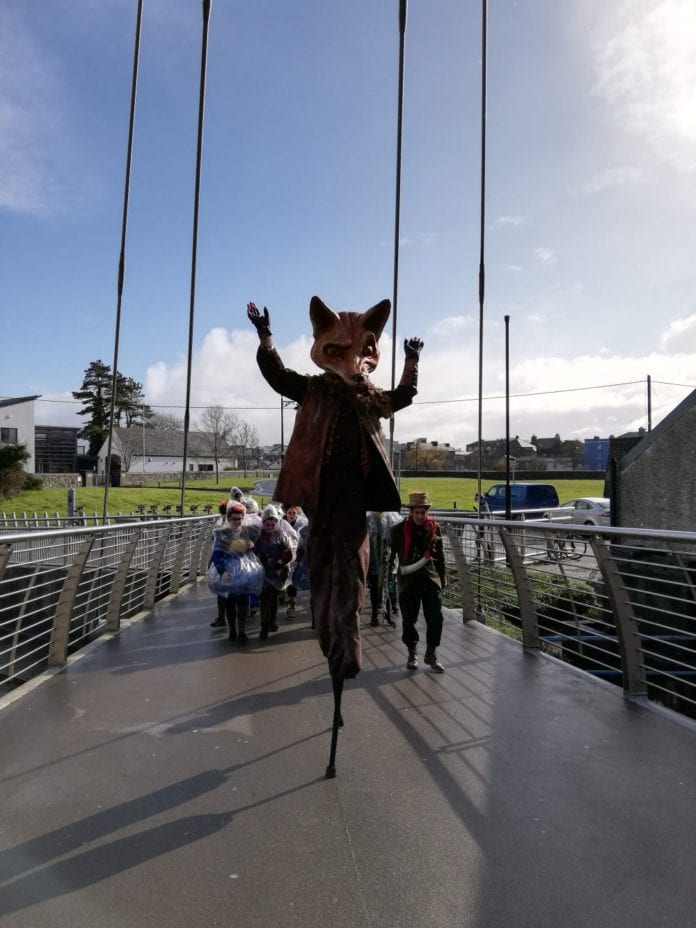 Galway's premiere creators of spectacle and performance art Macnas are offering people the chance to get involved in the magic this summer.
The Macnas Óg Summer School is opening to young artists and performers again July, and closer to hand the group is looking for people to try their hands at some advanced stilt work.
Macnas are beginning advanced Stilt Performance workshops with an emphasis on Stilt performance using mask, stilt-performance in acrobatics and in physical performance indoors and outdoors
These workshops are for people aged 15-25 who already have some experience in stilt walking and are ready to learn ensemble stilt performance working with giants, drummers, and all the fantastic creations Macnas are known for.
Participants will learn advanced technical stilt performance techniques on a weekly basis and will be trained in the unique work that is part of Macnas' world famous performances.
This training will be led by Aidan Phelan with Artistic Director Noeline Kavanagh with an audition being held on Thursday, May 14 at the workshop in Fisheries Field.
To take part in the audition e-mail performers@macnas.com. The workshops are free but spaces in this ensemble is limited.
Macnas Óg Summer School
Come summer the doors of the workshop will be thrown open for the Macnas Óg Summer School to let young people get a look behind the curtain.
Young artists and performers aged 7 – 12 will take part in a week long exploration of the group's techniques, both in performances and the fantastical creations for which they are so well known.
Facilitated by lead Macnas performance directors Judith Higgins and Miquel Barcelo, Macnas' youngest collaborators will gain an insight into the magic of spectacle while developing new and exciting skills.
With a focus on physical activity and games, the workshop will sow the seeds of magic and mayhem in a celebration of imagination and creativity from a child's perspective.
This fantastic summer activity will run from Monday, July 1 – Friday, July 5 from 10am to 1pm each day.
For more information email performers@macnas.com.
photo: Declan Colohan