Rock legend Robert Plant, legendary singer songwriter Burt Bacharach, five world premieres and four Irish premieres in theatre, the return of the Festival Garden, and an opera world premiere are just some of the highlights of the 2019 Galway International Arts Festival.
Over 600 acts are scheduled to come to Galway this summer for the 2019 Galway International Arts Festival which unveiled its full lineup today.
The 42nd GIAF will run this summer from July 15 – 28, with more than enough music, theatre, visual arts, and street performances for a lifetime, or at least until next year.
This festival will be a summer of firsts as numerous premieres will be taking to the stage.
The Irish National Opera will be staging their explosive new piece Least Like the Other tracing the life of Rosemary Kennedy, eldest daughter of Joe and Rose Kennedy and sister of JFK, and building a picture of her life from heavily redacted sources.
Galway's Druid Theatre is bringing forward Epiphany, a new play by Brian Watkins featuring three Tony Award winners – director Garry Hynes, and stars Bill Irwin and Marie Mullen.
The National Symphony Orchestra of Ireland will return to the stage, playing a tribute to John Williams who composed all the soundtracks of our childhood on the big screen.
There's plenty of spectacle off the stage as well as French artists The People Build are returning to create another cardboard monument to architectural ambition with the help of hundreds of people.
Commenting on this year's programme, Galway International Arts Festival's CEO John Crumlish said "We hope there is something for everyone in this programme.
"Whether you are interested in operas, orchestral work, new plays, music icons, contemporary art, a good discussion or street spectacle we are really looking forward to welcoming you to Galway this July for hopefully a very memorable two weeks."
Over 250,000 came to GIAF in 2018, and this year's festival hopes to push past that number by putting on a bigger spectacle than ever.
The Festival Garden alone drew 145,000 visitors who came to Eyre Square for some Al Fresco dining in between experiences, and it will return in all its delicious glory.
A new programme of Vinyl Talks will keep people entertained while they eat as some of your favourite artists drop by to talk about their most treasured vinyl memories while they play.
Of course music at GIAF is synonymous with the Heineken Big Top which is coming back with an exciting line-up of Irish and international musicians, including Burt Bacharach, Bell X1, Two Door Cinema Club, Villagers & John Grant, Macy Gray, The Academic, Orbital, The Coronas, The National Symphony Orchestra of Ireland and Grammy-winning Saharan Blues band Tinariwen.
That's not the only place that will be drawing the music lovers as legendary Led Zeppelin frontman is playing in St. Nicholas' Church with his new band Saving Grace in a concert that sold out in minutes.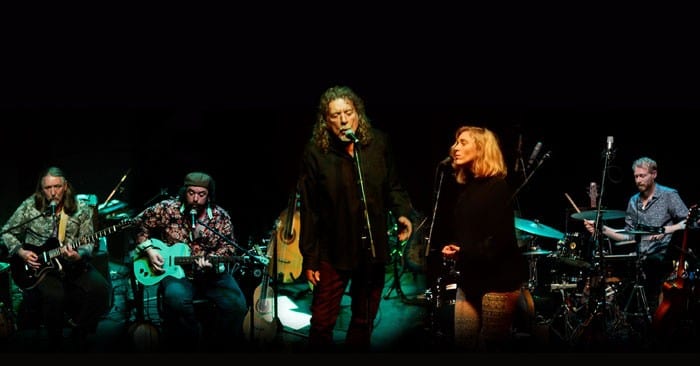 First Thought Talks, the exciting series of discussions about the topics of greatest importance to society today which premiered last year are returning with academics, activists, journalists and more lined up for a series of 22 talks.
This series of interviews, conversations and debate will explore the theme of BORDERS, whether it's national borders, gender, political, wealth or health, and will include a talk on What Can We Do About Climate Change? by former President and UN High Commissioner for Human Rights, Mary Robinson.
The Festival Gallery, one of many visual arts experiences to be had, is moving to a new home in the heart of Galway city and it will house an enthralling exhibition by one of Australia's most important sculptors Sam Jinks, In the Flesh, which draws on our fascination with the human figure.
Paul Fahy, Artistic Director of the festival, said they're particularly excited this year to see "so many collaborations and co-productions at the heart of the programme".
"Galway becomes a truly magical place for two weeks every July as some of the most brilliant artists from Ireland and all over the world arrive on our shores for a thrilling fortnight where great art, ideas and good fun are available in equal measure."
There's so much more that will be packed into two weeks at the Galway International Arts Festival than could ever be listed here.
600 artists from Ireland and around the globe, from Australia to Africa and from Europe to the Middle East will make their way to Galway for one of the renowned arts extravaganzas in the world.
Anyone who wants see the full lineup of shows can find them at www.giaf.ie.