Now more than ever, people are being encouraged to shop local in order to support producers of fresh food and in their area, and to help support local jobs, and Joyce's Supermarkets are helping shoppers do just that. 
Sometimes, there's a sense when people tell you to buy from local food producers that this means pulling yourself out of bed on a Saturday morning to hit the farmer's market. And if you're someone that thinks weekends are for being "productive", then more power to you. Or alternatively, buying local produce calls to mind extremely niche artisanal shops, where you have to hit up a dozen different spots to get your shopping done.
But these days, just heading to a local supermarket opens you up to a wealth of food from local farmers, fishers, and producers. Joyce's Supermarkets support many incredible producers across Galway and the west of Ireland to help customers buy locally, with as little fuss as possible.
Fleming's Seafood
For more than three decades, Freda and Gay Fleming have been supplying fresh Irish seafood that is loved here in the west of Ireland, and further afield. Originally based in a shop on Dominick Street in Galway City, where they set up business in 1986, for the past 20 odd years Fleming's Seafood has operated from Ros-a-Mhíl, the famed Connemara fishing hub.
Fleming's peeled prawns are a popular item at Joyce's for seafood lovers. Exclusively taken from the wild in Irish waters, a point of pride for Fleming's, these prawns are deshelled and deveined by hand at their Connemara hub.
A unique selling point of Fleming's prawns is the fact that their prawns are peeled while fresh, before being individually frozen. Fleming's also differ from imported tiger prawns in that theirs are frozen while raw, rather than cooked. These methods give their wild prawns a flavour profile that sets them apart from other brands, and have created a very loyal following.
It's not just customers who think Fleming's are world-class quality, the judges at Blas na hEireann, the prestigious Irish Food Awards, awarded them a gold medal for their Peeled Irish Supreme Prawns in 2013, giving them a seal of approval from experts in the industry.
Ginger Veg Man
For some foods, buying local isn't just a question of supporting local businesses, but about getting quality that is only available in food grown in the area. The time from soil to shelf is particularly important in salads and mixed greens, and Ginger Veg Man Gordon Hardiman puts healthy greens in the bowls of people in Galway in an unbeatable time.
When Gordon started growing produce on his Kilcolgan farm four years ago, he had no real background in agriculture, aside from a few summers on a farm as a child. Before starting his farm, he gathered wisdom on different farming techniques from around the country, and mixed that with his own engineering expertise to set up his operation growing mixed leaves, rocket, and spinach year round.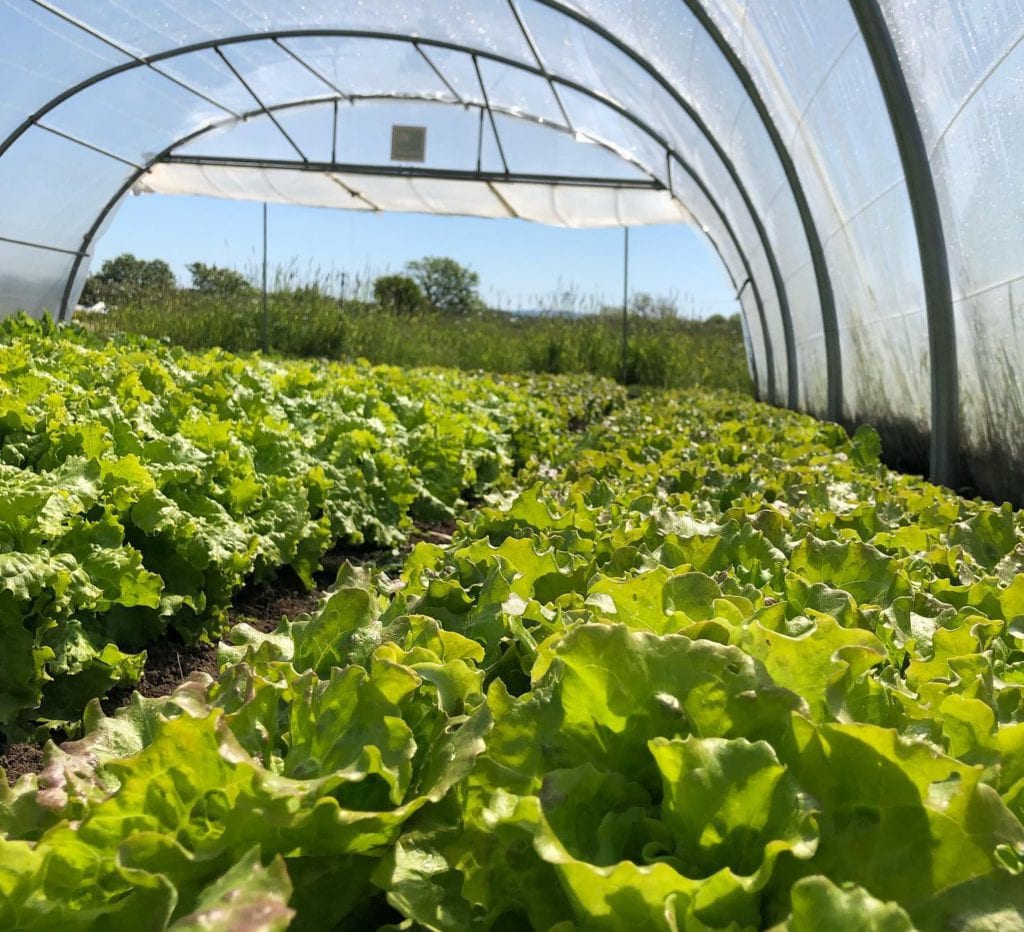 Everything at Ginger Veg Man starts with the soil. Gordon uses regenerative, environmentally friendly farming methods to ensure that they grow crops using soil with a healthy biology. This not only ensures a healthier crop with fewer pests, but you can taste the difference in quality in the salads grown in the rich soil. 
Of course, freshness is key when buying salads if you want something that can last longer than five minutes in the fridge without wilting. If you buy a bag of mixed greens from Ginger Veg Man at Joyce's to make a salad for afternoon lunch, the odds are it was picked and delivered that morning, ensuring that your salad will stay crisp and fresh for a long time.
Galway Bay Seafoods
The west coast of Ireland is world renowned for the quality of its seafood plucked fresh from the Atlantic, and Galway Bay Seafoods are one of the oldest and most celebrated suppliers still operating today.
A family owned business passed from father to sons, Galway Bay Seafoods was established in 1950. Current owners Johnny and Noel Howard learned at the knee of their father, and have continued the tradition of bringing the finest, freshest catches of the day to your table.
Their state of the art processing and smoking facilities ensure that seafood makes its way from the deck of the fishing boat, right to your pan, as quickly as can be.
As the name suggests, all the bounty of Galway Bay and beyond is available at Joyce's, including fresh Galway Bay prawns and oysters, along with fresh fillets of cod, haddock, salmon, hake, sole, and more than can liven up any dinner.
Gilligan's Farm
Family owned farms are a sadly disappearing tradition in Ireland, one that has a strong history of putting prime quality meat on the table of any family dinner. Gilligan's Farm not only has more than a century's experience in rearing lamb and beef of impeccable consistency, but is also one of the few family owned farmers and butchers operating in Ireland.
Sustainability and traceability are big parts of the operation at Gilligan's Farm. Even beyond handling the butchering and processing of the meat themselves, much of the food for the sheep and cattle comes from crops grown on the 22 acre farm in Roscommon. This gives them better control of the animals' diets, so both the farmers and customers alike know exactly what goes into making their meat.
The proof of quality is easy to see in the multiple awards won by the Gilligan family for their meat down through the years and generations, including at the prestigious Blas na hÉireann Awards for the best grub in Ireland, and a clean sweep at the European Angus Steak Tasting Awards where they won every category in 2015, and took the crowning prize. 
Burren Smokehouse
The Burren Smokehouse provides the finest artisanally smoked Salmon, Trout, and Mackerel that is perfect for any dinner, or a barbeque that takes advantage of the summer sun. Pair them with some fine cheeses and you've got a tasting board that can bring the quality and elegance of Galway's best wine bars into your living room. 
Founded in 1989 by Birgitta and Peter Curtin, the Burren Smokehouse boasts an international flavour to its fish, combining fresh catches from the Atlantic with the best traditions of smoking fish from both Ireland and Sweden. Though the Smokehouse is just over three decades old, the Curtins have been smoking and selling salmon for over a century.   
There are many different ways to enjoy the seafood from the Burren smokehouse, with different flavour profiles to suit any need or cooking style. Their signature Smoked Salmon, which took the Gold Medal for seafood at the 2009 Blas na hEireann food awards, comes in both Hot and Cold smoked varieties. 
Hot smoking salmon both cooks the fish, and infuses it with the unmistakable smoked flavour. Cold smoked meat has that incredible flavour, but is still raw, for you to prepare in any way you choose.
Smoked fish from Burren Smokehouse, whether Salmon, Mackerel, or Trout, is also available in a range of pre-seasoned flavours including well Spiced, Honey, Whiskey & Fennel; or Honey, Lemon & Dill.
So browse the choices of some of the finest producers of fresh food in the west of Ireland at your local Joyce's supermarket today.
sponsored by Joyce's supermarkets