Sunny days are finally here, and we're all flocking to find good spots to eat outdoors in potentially the most cathartic summer anyone's experienced in a long time.
Overlooking the bay outside of Oranmore is the Galway Bay Golf Resort, which has recently reopened for takeaway and outdoor dining, in a spot which boasts some of the most stunning views you can find anywhere in the county. 
The food and drinks side of the business at the Golf Resort closed due to COVID-19 last year, and reopened in June with a new direction, and revamped outdoor dining area at the clubhouse. 
This patio area, complete with parasols, awnings, and heaters to protect against the wind, lets people enjoy a coffee and a bite, or a full dinner, while staying protected from the elements, and basking in the scenery you only find on the west of Ireland.
Damien Coleman, Course Manager at the Resort, said that their goal is to deliver a five star experience, at a more affordable cost, a "four-and-a-half star resort", he put it.
The Galway Bay Resort, which has a long history, recently became part of the Connacht Hospitality Group, which comprises many much loved hotels, bars, and restaurants in the city.
The CHG has helped the resort in its reopening with bringing on board new staff to grow the food and drinks side of the resort, and with getting the message out that it is open to all, not just club members.
"We're very lucky to have that brand attached to our resort, and the experience and expertise that goes with it. We're looking forward to establishing a really high quality level," Damien said.
Wining and Dining
Among the additions made to help the hospitality side of the clubhouse relaunch, and continue to expand into the future, were two new staff members – Chef Andrew Lewis and Food & Drinks Manager Anna O'Driscoll.
They both joined the resort in late May, just a few weeks before reopening for outdoor dining and takeaway food. Damien was quick to praise the energy Andrew has brought to the kitchen.
"He's a really good chef, with a lot of good ideas about where he sees the food and beverages operation going, the style of food."
He came to the Galway Bay Resort after five years as the sous-chef at the renowned G Hotel. "I was just looking for a new challenge, something exciting. I went up and had a look around the area, it's a beautiful location," he says of why he joined the growing team.
For his part, Andrew says that the goal is simply to deliver "good, simple food, done with care and attention". Having only reopened in recent weeks, the menu is still building up, but already contains a good mix of lunch and dinner options.
People dropping in for a bite from Wednesday to Sunday can enjoy light snacks like a selection of pastries with a coffee, more substantial lunch sandwiches such as the smoked salmon with red onion on brown bread; the classic toasted clubhouse; or the mouthwatering Cubano, with slow-cooked pulled pork that melts in your mouth, salami, roasted pepper dijon, and more on a toasted Cuban roll.
For the main course people can sample Galway's seafood offerings, with ale battered Haddock and chips, or seafood chowder, along with the 6oz Angus beef burger.
An important part of building this menu has been working with local producers, Andrew said, listing off regional suppliers such as beef from Gilligan's Farm in Roscommon, Kylemore Cheese, and of course the abundance of fresh seafood available in Galway.
In the coming weeks, as indoor dining returns, the menu will expand to include more main courses, Andrew added, such as braised beef, risotto, butter chicken and more.
Anna O'Driscoll, the food and beverages manager, also joined the hospitality team at the golf resort in late May, moving there from the Connacht Hotel, where she was the chief mixologist and senior bar staff.
She's in charge of maintaining service for the restaurant, keeping food and drink orders flowing from the kitchen to the patio. "Making sure the pints come out nice, because that's what people have been missing, pints of Guinness on draught," she puts it. 
Her real passion is cocktails, no surprise considering her past, and while she doesn't have a cocktail menu for the resort yet, "If I have my way I will."
In recent days she has tested out a "Summer Sour" recipe, which came about because of some leftover rhubarb syrup from a desert crumble being made in the kitchen. This consists of the syrup, along with gunpowder gin, cointreau, and egg whites.
"It's bitter enough that it takes some of the sting out of the gin, but then I add a drop of vanilla and it balances out. We just did it to see what the syrup was like, and we all really liked it."
Community Resort
While the bistro is part of the clubhouse for the Gold Resort, it is by no means confined to the use of club members, and one message that they are eager to impress is that anyone can drop by.
Damien Coleman said that they have received "great support" from club members and golfers, but that there is also a lot of footfall from people out walking in Renville Park, where it is in the perfect location to enjoy a mid-afternoon break while enjoying the summer sun.
"It's very important that people realise we're open to everybody. You don't need to be a member to eat here, everyone is welcome."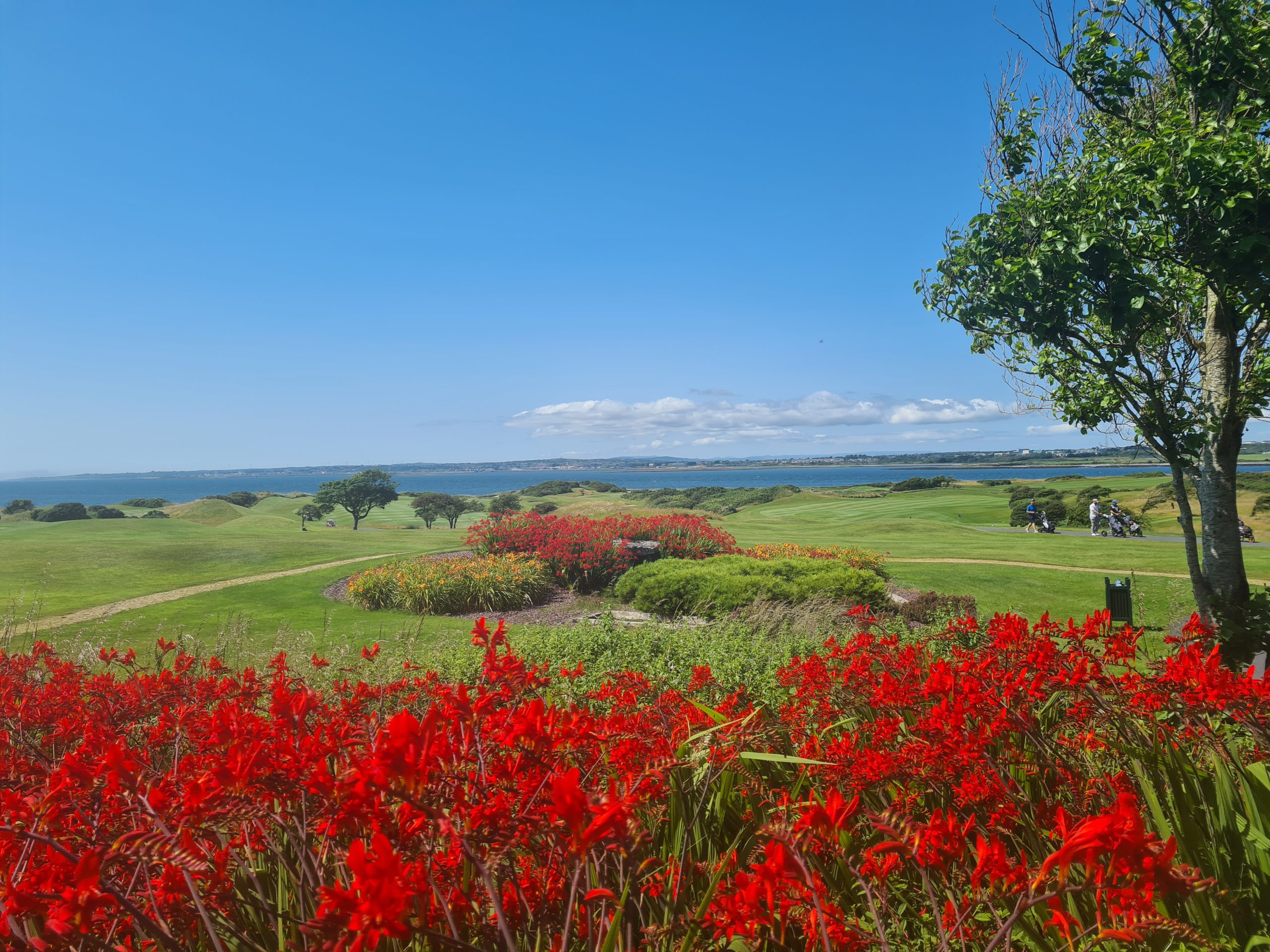 There's regular traffic from people out walking their dogs, Anna says, who appreciate that they can stop for a coffee and a bite, and bring the dog with them, as well as families coming in from Renville.
"It is a good halfway point. Sometimes what they'll do is they'll get a good takeaway coffee here and then head on. Some people ring us from Renville, and then they'll head up."
"It's the views that make people stop in their tracks, because they are gorgeous." she adds laughingly, "and then they stay for the food."
Looking Ahead
The Galway Bay Golf Resort is keeping an eye on the future, for the planned resumption of indoor dining in the coming weeks, and the larger expansion plans for the resort coming down the pipeline.
The past few weeks of outdoor dining and takeaways have been about "laying down the groundwork" of the quality that people can expect from them from now on, Anna explains.
"From the get go we've provided good service and food, not just a rushed reopening," she says, adding that customers know this level of food and service will continue.
For his part, Damien is enthusiastic for the return of indoor dining, saying that they could open today if they were given approval from the government.
"As soon as we get the green light from the government for indoor dining, we're ready to go. We're essentially just waiting for that nod, and as soon as it comes we'll be fully reopened in the bar and lounge area of the clubhouse."
While only the ground floor lounge and bistro will be open at first, Andrew says that it is hoped that next year will see the refurbishment and reopening of the first floor restaurant space.
"It's probably one of the best locations in Galway right now," he says.
sponsored by the Connacht Hospitality Group