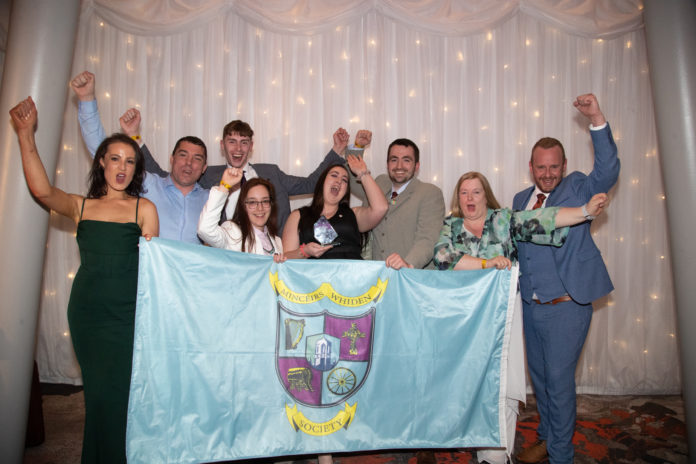 When NUI Galway's Mincéirs Whiden Society won the 2022 Best 'Cultural, Academic and Social Society' at the Board of Irish College Societies (BICS) in April, it couldn't have happened on a more fitting date – on the eve of International Traveller and Roma Day.
The student society – the first of its kind in an Irish university – gives Irish Traveller students a place where they can go and speak with other Irish Travellers. 
As a Committee Member, I know first-hand of the excellent moral support the society offers.
It also gives us a place where we all can be ourselves. 
We don't have to hide our backgrounds as proud Irish Traveller students in third-level education; alongside this, we continuously connect with other societies and settled people.
It is truly amazing what our Society keeps achieving. 
The award in April was the first time Irish Travellers took home the accolade, and the society's secretary Jason Sherlock thanked the Board of Irish College Societies, Socsbox 2 (NUI Galway Societies' Office), and Riona – NUI Galway's Societies Officer.
He explained for those who don't know, that 'Mincéirs Whiden' means 'Irish Travellers Talking' in our own language Cant.
"We are the first Irish Traveller University Society in Ireland, and we will not be the last!"
Jason also thanked the committee of Mincéirs Whiden Society for all of their work throughout the year.
Societies Officer Riona Hughes said 'it was very emotional' at the BICS Awards when we won Best Society.
"It was obvious from the resounding applause from the students in attendance, from all the colleges, that it was a popular win," she said.
"I am very proud of what the society has achieved, being the first society of its kind in Ireland. The support they give to students from the Irish Traveller community and other students from indigenous backgrounds is very important.
"They create a safe space as well as opening the conversation with their fellow students about their culture and celebrating their many important traditions.
"As Societies Officer, I am particularly grateful for having the opportunity to support this cohort of inspiring students who challenge stereotypes and make our campus a more open and inviting environment for everyone."
I also spoke to NUI Galway President, Professor Ciarán Ó hÓgartaigh and asked him some questions about our society. 
How familiar are you with the Mincéirs Whiden Society?
"I am familiar with the Mincéirs Whiden Society, I know Jason Sherlock and Owen Ward, and it is a society I'd like to work with more as it makes a big difference. At the time it was being set up, it was a way for Irish Travellers to get to know each other as they would not have known that they were here and to help support each other.
"Mincéirs Whiden Society is fantastic for this. Another thing that is nice about Mincéirs Whiden Society is that it was set up by Irish Travellers and allies to support each other because what is important to me is that the students are empowering themselves like starting the society; I was delighted when I went on to see them off to Wexford on the bus."
Do you think it is important that there is an Irish Traveller student society?
"One of the things that I have often said that I want to do more of here is to make the University a place where everybody feels comfortable, make friends and where they know they have support.
"I grew up in Newcastle (Galway City), and I used to walk through the campus. I want everyone to have the same feeling that they can do that too, and Mincéirs Whiden Society is vital in that Irish Travellers are underrepresented in universities.
"I think there must be a network of students who have had the same experiences because it shows people that they too can do that or if they have had a problem; someone else probably had the same problem or similar, and you can share that with them and not feel alone. So, it is important to me that the Society has that purpose."
What is NUI Galway doing specifically for Irish Travellers? We are aware that there are grants (University of Sanctuary Scholarships). There is a Full-Time Irish Traveller Education Officer (Owen Ward). We are also aware of the possibility of a Lecture Hall being named after an Irish Traveller.
"There are a couple of good examples, like the University of Sanctuary Scholarships.
"We have Owen Ward visible for Irish Travellers to show that someone can be mentored by someone who has had similar experiences as them, and we have Jason Sherlock on our Academic Council. We could do more possibly.
"There is also the Access programme; many Irish Travellers have completed this to prepare for university. We also have had 'Irish Traveller Ethnicity Day' on campus. We hosted it with President of Ireland Michael D Higgins in the Quadrangle, which made it very central and visible.
"We also had the traditional Wagon (Caravan) on campus just before Covid-19. Overall, we are trying to make the University's support more visible and to show that everyone can feel that they belong here.
"That is important for me as president; I go to these events and take the time to signal that this is very important for the University."
What was your reaction when you heard that the Minceirs Whiden Society had won the 2022 Best Society (Cultural, Academic and Social) on the island of Ireland at the Board of Irish College Societies Annual National Awards in Wexford'?
"I was delighted; I was delighted when they were shortlisted because they are a society that is not that long founded.
"It has been two or three years since it was founded, and it is almost like an arrival. NUI Galway recognizes the Society, but it is further recognized throughout the country for making a considerable difference. To me, it says that the Mincéirs Whiden Society has arrived now."
Do you think there will be similar societies for Irish Travellers Students in third-level education? We hope the Mincéirs Whiden Society effected a change in that regard.
"Yes, we hope that Mincéirs Whiden Society will be a part of that again because it is a national opportunity, and for Irish Travellers, NUI Galway could do better. I think we are at the forefront, but Irish Travellers are at other universities.
"It is also about having a balance between recognizing that everybody belongs here and cherishing everybody's ethnicities and backgrounds. It is not saying that we are all the same but saying we are all different, which is essential.
"The strength of any university is difference and diversity, which is an integral part for me. The Mincéirs Whiden Society shows that it has a unique opportunity to support students."
In the Mincéirs Whiden Society, we feel that you are a great president and often unique in how you interact with students. It is often said you are one of a kind and highly respected for doing what you do. This kindness is something special from our point of view, and I would like to ask why you behave differently than the rest?
"I cannot comment on other presidents as I do not know. I have often thought of why I have acted the way I have; everybody has different views.
"I can think of a few things, I grew up in Newcastle (Galway City), and we had Irish Travellers as part of our community. My mother taught literacy to adult Irish Traveller women, and I think that it's nice that two generations later that the same families are involved in education.
"The school I went to at the time was quite diverse, and there were Irish Travellers in my class, which may be shown in my presidency. I also think it's because I felt lucky to be able to walk through here. I want everyone else to have the same experience; I think that is possible."
And lastly, Ciaran, is there anything else you would like to add?
"Yes, there are a couple of things. You have thanked me a lot, but for me, I would like to thank you and the Mincéirs Whiden Society and the Irish Traveller community who made it, who make a difference here, because for me, it is important.
"The University should welcome all the talents, and it is better for it. We should, and it is not just about a responsibility that we have, but we're better because you're here; I am learning from you, and all our communities learn from each other.
"I have learned from everybody I have met, and it's a privilege for me; I shouldn't be thanked, but I am very grateful that I can learn and to meet you and learn from you and Mincéirs Whiden Society.
"It is the students that set up the Society, they had the courage and commitment, the vitality and I am sure it hasn't been easy a lot of the time.
"Another thing that is important to me about the Mincéirs Whiden Society is that it's a student society and I think that's good.
"Sometimes it hasn't been easy, and sometimes the University needs to be challenged, and I also like those students come and say that something isn't right, and it needs to be fixed. That makes us better, which is really important."